November 12, 2013 - 5:14pm
Man who admitted to multiple burglaries in 2008 given chance to avoid prison term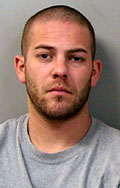 A former Batavia resident accused of five burglaries locally has a chance to carry on his life without serving any time in prison.
Judge Robert C. Noonan ruled in County Court today that Samuel G. Malone, 27, can serve a year's interim probation before he is officially sentenced on his guilty pleas Aug. 12 to two counts of burglary, 3rd, and one count of attempted burglary, 3rd.
District Attorney Lawrence Friedman told Noonan he thought a prison term was the appropriate way to deal with Malone, who committed his local burglaries in 2008 and avoided detection until he was arrested in another county in January.
The arrest in another jurisdiction helped Batavia PD match Malone's DNA to blood found at three burglary scenes in the city.
Malone was later charged in another local residential burglary and admitted to burglarizing the former Clor's location on Pearl Street.
Noonan was apparently persuaded to give Malone another chance based on pre-sentence reports from the probation departments in Allegheny County, where Malone now lives, and Genesee County. Both reports recommended no prison time for Malone.
The maximum sentence available to Noonan was eight to 16 years in prison.
Malone is on probation on his conviction in another county, so he faces consequences there as well as Genesee County if he violates the terms of his release.
For previous coverage of the Samuel Malone case, click here.
November 12, 2013 - 10:38pm
#4
So sad that people make judgements WITHOUT knowing ALL the facts of the case. The "victims" were establishments, not private homes~ and 3 were attempts where a window was broken. He was working a full time job, unfortunately he had an addiction that he could not control without the proper help. He is very remorseful and is in the process of making restitution. He has been in treatement since April and is currently volunteering his time to various community organizations to help others. He has a heart to help at risk youth and has worked with S.A.D.D. to tell youth his story of his addiction and the consequences of bad decisions. He has spoken to schools and a town meeting in hopes to reach youth. He is on the right path, and 1 year INTERIM probation is NOT his final sentence. He has a long road ahead of him- and if you read the article, he still has to go in front of the judge in 1 year for final sentencing. Jail time is NOT out of the question. Judge Noonan was simply giving him the opportunity to COMPLETE his treatment in light of the good progress that he has made WITHOUT any relapses!!! There IS justice in this world. Remember, that justice goes both ways. Justice to someone who has a very real addiction problem that needed help- and justice for those that he wronged. He is taking full responsibility for his actions and making his wrongs right to those he offended. He is also getting the help he needs to be a productive member of society. He still is paying the price in many respects and still has to face final sentencing. Decent people do fall victim to addictions- it doesn't make them scumbags. I hope that no one here has a family member that falls victim to addictions.