October 23, 2013 - 7:38pm
Marshalls haul in suspect accused of sexual abuse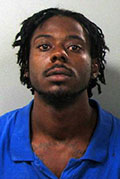 The U.S. Marshall's Fugitive Task Force apprehended a man in Albion today who was wanted in Batavia for alleged sexual abuse of a child less than 11 years old.
Terrell Goodson, 25, was taken into custody on a felony warrant for alleged aggravated sexual abuse 2nd and sexual abuse 1st.
The Task Force assisted in locating Goodson.
The investigation into Goodson's alleged crime was handled by Det. Kevin Czora.
Goodson was arraigned and jailed without bail.
October 23, 2013 - 10:40pm
#1
There must be a spelling error in this story with the last name. Goodson is probably the correct last name.
October 23, 2013 - 11:05pm
#2
How the hell did that happen?
October 23, 2013 - 11:08pm
#3
The Genesee County Jail is starting to fill up with accused sex offenders (this is like the 4th or 5th story this week.......hopefully Judge Noonan will send them all away for max (if convicted)