August 28, 2013 - 8:28pm
McQuillen plans to build house on 13-acre lot off Robbins Road, so barn stays
posted by
Howard B. Owens
in
Le Roy
.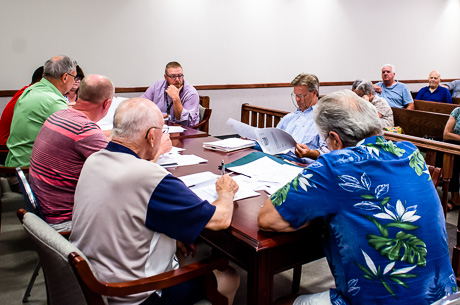 Peter McQuillen can keep his barn.
That's the upshot of a decision by the Town of Le Roy Zoning Appeals Board, which met Tuesday night to consider whether construction of the barn violated the Village of Le Roy building code.
The question was rendered moot by McQuillen's decision this week to pull a permit to build a single-family residence on his 13-acre lot off Robbins Road.
"I was prepared to debate the interpretation of the code regarding accessory structures," McQuillen said. "I was also prepared to show precedent from around town of different areas were accessory structures were allowed ... but my wife and I have been thinking about this for a better part of a year ... This was something we were going to do in the future, but we decided a few days ago to go ahead now, so I pulled an application for a permit to start building a house."
Village code says you can't build an accessory structure prior to building a primary structure.
McQuillen was initially granted a permit in July to build the barn even though he did not request a permit to build a house.
That permit, all officials agree, was issued in error. A stop-work order was issued, but McQuillen could keep building while the stop-work order was appealed.
Since McQuillen has now filed the necessary paperwork to build a house, the board found that the barn is no longer out of compliance with the code.
There's nothing in the code, said Dan Lang, who is helping with Le Roy code enforcement issues while training a new code enforcement officer, that requires construction of the primary structure start before an accessory structure.
"The only issue is that there needs to be a single-family home with a driveway from Robbins Road to the accessory structure," Lang said. "If there is, the lot is in 100-percent compliance.
The barn in question sits just feet behind a house in Presidential Acres owned by Town of Le Roy Supervisor Steve Barbeau.
Barbeau and some of his neighbors believe McQuillen decided to build the barn out of spite because Barbeau, along with his neighbor, David Boyce, opposed a patio-home development McQuillen wanted to build on his 13 acres.
Barbeau and Boyce filed a lawsuit that eventually led to McQuillen abandoning the project.
The feuding between McQuillen and Barbeau came to a head earlier this month when a tree -- Barbeau said it's the third such tree -- fell from McQuillen's property onto Barbeau's property. Words were exchanged and Barbeau allegedly pushed McQuillen down and was subsequently arrested on a harassment, 2nd, charge.
Boyce and two neighbors filed an appeal of the building permit for the barn and Attorney Alan Knauf spoke at Tuesday's meeting, even though the appeal wasn't officially considered.
"The question here is there was a permit issued in July and was it a valid permit?" Knauf said. "It was not."
Knauf said the other issue with the barn is that he believes it's a commercial structure, and therefore out of compliance with the zoning of the neighborhood. Citing an article in The Batavian, Knauf said McQuillen gave a description of his planned use for the barn that makes it a commercial structure.
McQuillen said he was misquoted.
"It is in no way a commercial structure," McQuillen said. "I live on Robbins Road. I have a barn. This is a similar situation. I will have a home and a barn on the parcel that I bought. I don't understand why I'm being grilled under such a microscope here when I'm the applicant. I don't think I'm doing anything other than apply for a permit and now I've had lawyers coming after me for 18 months."
Besides the lawsuit filed by Barbeau and Boyce, McQuillen is being sued by Carol Durney, the woman who sold McQuillen the 13-acre parcel for $13,000.
Durney claims McQuillen misrepresented some aspects of the property to convince her to lower the price, and he didn't reveal his intention to subdivide the property.
Between the lawsuits and the lost money on engineering studies for the subdivision, McQuillen said he is out tens of thousands of dollars.
Ask how much, and McQuillan said, "Honestly, I've never sat down to add it up. It would be too depressing."
NOTE: This story would have been published this morning, but just as I was finishing writing it, my computer ate it. At that point, I had to leave to cover something so I couldn't rewrite it then. I've been running around all day since then (hence no posts until now, but they're coming ... )
August 29, 2013 - 2:43am
#1
So, I would think Mr. Barbeau & Mr. Boyce would be celebrating.
To me, it looks like they have caused Mr. McQuillen to spend a lot of money on an unfulfilled dream.
Also, they appear to have won the 'legal' battle against 'Robbins Nest'.
Then, one of them, allegedly, 'won' the physical part of the 'battle'.
Don't really know what more they could hope for.
Except, maybe, Mr. McQuillen's promise not to paint a portrait of Charles Laughton's derriere (or any part of Miley Cyrus) on the side of the barn facing their 'upscale' homes.
Enjoy the view, Neighbors!
August 29, 2013 - 8:31pm
#2
I know that "The Batavian" likes to run polls so here's a suggestion.
"Under what circumstances should an elected official resign or be recalled / impeached?"
1) If they yell at someone?
2) If they call someone a name?
3) If they swear at someone?
4) If they push or punch someone?
4.1) and they get put under a restraining order?
4.2) and / or they are arrested?
5) If they push or punch someone and cause physical injury that requires a doctor visit?
6) If they push or punch someone and cause physical injury that requires a doctor visit and short term follow up care?
7) If they push or punch someone and cause physical injury that requires a doctor visit and extended follow up care?
8) If they push or punch someone and cause physical injury that requires a doctor visit and they suffer a life long disability?
9) If they push or punch someone and they die?
Personally, I'd have to go with "4".
I wonder on which "Number" "barbeau the Bully" draws the line? . . . . . . Could it be "10"?
10) It was only a momentary transgression, it was his fault, he deserved it, I won this office, I deserve it, I'm working really hard for some of you, and I can do what I want till I get voted out, "so get over it"!
August 29, 2013 - 11:13pm
#3
"portrait of Charles Laughton's derriere", absolutely Classic!