April 9, 2014 - 6:55pm
Motorcycle safety instructor says it's time for riders to brush up their own skills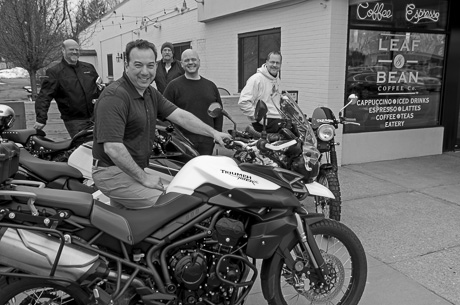 It's spring. It's traditional each spring to remind car drivers in WNY that motorcyclists are going to be out on the road again.
Look for them.
But a big part of Jon DelVecchio's message to motorcycle riders is you're the one most responsible for your own safety.
Yes, drivers of four-wheeled boxes need watch the roadways better, but there are things that alert and trained motorcycle riders can do to avoid crashes, even when confronted with the most inattentive drivers.
"Riding a motorcycle takes years of practice and effort to master," said DelVecchio, who will be teaching a motorcycle safety course at Stan's Harley Davidson at 1 p.m., Saturday, April 26. "You have to do something to improve your skills every year. A lot of people say, 'I'm going to go out, hope for the best. Those damn car drivers. It's always their fault.' "
DelVecchio, a Churchville resident, is a certified Motorcycle Safety Instructor who teaches the basic licensing course at Learn to Ride in Rochester. He's also started his own motorcycle safety business, Street Skills. He writes articles, produces videos and podcasts and sells a deck of flash cards riders can use to brush up on their skills each spring.
Too often, he said, riders take the basic riding course, pass the test, get their license and they think they're ready to ride. They never take another course, read a book or even watch a training video.
He doesn't take credit for the saying, but somebody once said that the typical motorcycle rider who has been riding for 10 years really only has one year of experience. They just keep repeating the first year over and over and over.
"Your skills are never fully mastered and in the spring you're off your game, so do something different this season," DelVecchio said. "Take a class. Read a book. Do something to improve skills, not just this year, but every year."
DelVecchio started riding in 2001. He had a wife and two toddlers, plus he taught driver's ed at Rush Henrietta High School, so he already took safety seriously (he's also a business teacher at RHHS). By 2007, he was offered a chance to teach at Learn to Ride and found that teaching motorcycle safety combined his two biggest passion -- teaching and riding.
During this time, he also formed a group through MeetUp.com of riders who shared a love of bikes, but also took their skills seriously. They ride together regularly and take trips together throughout the Northeast.
He's found riders have varied attitudes toward bike safety. There are the riders who get big bikes, like to ride without helmets or only with small helmets, and combine riding with maybe a few beers along the way, then there's the younger riders who get fast bikes, ride them fast and take risks.
DelVecchio was careful to not criticize either kind of rider. "To each his own," he indicated, but he would clearly like to see all riders take to improving their motorcycle skills more seriously.
The most common kind of motorcycle accident is the car turning left in front of an oncoming motorbike.
Drivers are reminded constantly this time of year to look twice, take extra care, but even that isn't enough, DelVecchio said.
Riders need to be aware that even careful drivers are going to have a hard time seeing you and if they do, it is difficult for drivers to gauge a motorcycle's speed and distance.
A video on YouTube demonstrates how a motorcycle coming down the road looks small in the distance and continues to look small to the driver until suddenly it looks very big. A bike and rider also have a greater likelihood than a car of blending into the background.
Motorcyclists need to be acutely aware of these visual impairments for drivers and either weave in their lane of traffic when approaching an intersection with a car present (making themselves more visible) or take other defensive driving action.
The second most common type of motorcycle accident involve riders coming into curves. They might be going too fast (relative to skills and experience) or they might not be familiar with the curve, or they might hit a substance on the roadway. The less experienced or knowledgeable a rider, the less aware they are of how to handle turns.
Turning a bike involves something called a countersteering. With a four-wheel or three-wheel vehicle, if a driver wants to go right, he or she turns right. Go left, turn left. But on a two-wheel vehicle, a rider who wants to go right needs to turn the front wheel to the left slightly and then lean into the turn.
Most of the time, riders do this instinctively, but when confronted with a new circumstance, the rider might pull the wheel in the wrong direction causing the rider to be ejected.
That's one reason extra training, knowledge and experience are so important for riders, DelVecchio said.
While acknowledging that helmets are controversial in the motorcycle community, DelVecchio believes riders should wear them, even full-face helmets, which offer the most protection.
He said he often tells his students that if they could talk to a person who was killed or suffered a serious head injury in a motorcycle accident, how do you think that rider would answer a question about going back in time and wearing a helmet.
"If you could rewind the clock and crash again but with the helmet, how many people out of 100 do you think would actually say, 'no I want to crash again without the helmet.' Right? None," DelVecchio said.
The point is he said, "is how do you know when you're going to crash?"
That said, he isn't in favor of forcing anybody to wear a helmet.
"I'm conservative. I'm tired of the government trying to tell me how to do things, but in that conservative view, I think if a crusty old rider, who has 10, 20 years experience, wants to go riding without a lid and he knows the risk, to me, OK, knock yourself out," DelVecchio said. "But there are so many new riders out there (riding without a helmet)."
As for beer and biking, DelVecchio doesn't do it himself.
"I love a beer, but when I ride, I never even have one," DelVecchio said. "It could be that little edge I give up."
DelVecchio's last bit of advise for riders: Be nice. Riders who are rude just make car drivers care less about the safety of other riders.
"If somebody's a real jerk, they've got a real loud bike and they're doing a wheelie next to a car, that person is not going to necessarily be punished for that wheelie or loud bike," DelVecchio said. "It's the next person on a bike who comes to the intersection where the other driver thinks, 'they don't care about their safety and I'm going to worry about him.' They're not going to purposefully gun for him, but they're going to think he dosen't care about his safety and he's obnoxious and discount him a little more."
DelVecchio also sells flash cards for beginning car drivers on his Web site. The seminar at Stan's, located at 4425 W. Saile Drive in the Town of Batavia, is free and open to all riders.
Photo: DelVecchio on the front bike. Behind him are his friends, from left, Lennie Rugg, Paul Hendel, Matt Ostrowski and Gene Rinas. The riders meet regularly at the Leaf & Bean in Chili Center, which is owned by Bergen resident (and a motorcycle enthusiast himself) Bill Scharvogel.
April 9, 2014 - 8:14pm
#1
We can look for them but motorcycle riders don't help themselves by not having more lights on and riding with black clothes and black helmets.