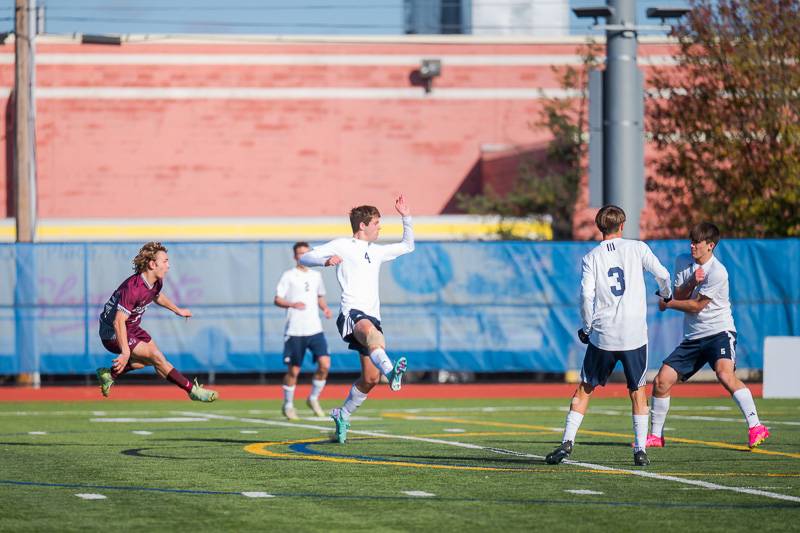 With 26 minutes left in the first half, Mount Academy's Chris Recinos penetrated Byron-Bergen's defense and, from close range, knocked a ball over the goal line to put the Eagles out in front of Byron-Bergen/Elba in the state championship of Class C Boys Soccer in Middletown.
Eight minutes later, Alexis Mendoza blasted a penalty kick past a diving Bees keeper Martin Mac Connell to put the Eagles up 2-0.
Mendoza scored two more goals, including one on a second-half corner kick, for the hat trick. The Bees' only score was a second-half goal by forward Jack Farner.
The eventual 4-1 win was the second state title in soccer for the eight-year-old private Bruderhof Christian community high school. The Eagles won two years ago as a Class D team and were moved up into Class C, despite a student body of only 200, because of the school's perceived dominance in soccer.
While the game looked evenly matched for the first 18 minutes, the Eagles seemingly became more and more dominant, containing the Bees to their end of the field most of the rest of the way.  The Bees were not without scoring opportunities, even in the second half, but either shots were missed or were blocked.
This year, the Mount Academy girls' team won a co-champion title with a tie score in their game.
Byron-Bergen/Elba was coming off a physically and emotionally draining win against #1 seed Seton Catholic on Saturday in Goshen. That game went to double overtime, tied at 1-1, for 110 minutes of fast-paced football, followed by a best-of-five penalty kick shout that the Bees won 3-2.
The Eagles had their own emotional motivation carrying them into the final after starting midfielder Lenis Arnold suffered a compound fracture in his left in Mount Acadamy's 4-2 win in the semifinal earlier on Saturday against Waterford-Halfmoon. Arnold was on the sideline with his leg in a cast for Sunday's game.
For more photos by Howard Owens and to purchase prints, click here.
For more photos by Jennifer DiQuattro click here.
The Batavian was the only news outlet from Section V with staff at the Class C tournament games for Boys Soccer.  You can help support out local coverage by signing up for Early Access Pass.