October 7, 2013 - 9:51pm
Multiple reports of gunshots in the area of Jackson and Central
posted by
Howard B. Owens
in
batavia
.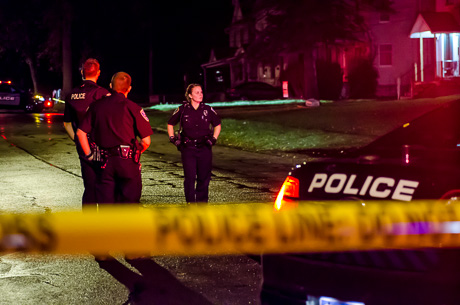 Dispatchers informed Batavia patrols that at least three callers reported hearing three or four gunshots in the area of Jackson and Central.
A minute later, a Batavia officer reported pulling over a vehicle that had just "blown through" a stop sign at Sumner and Swan. There were three individuals in the vehicle. Two took off heading south and were reportedly wearing red.
A minute later, a caller reported more gunshots on Jackson Street.
Multiple Batavia PD units are responding to Jackson and Central as well as Swan and Sumner.
UPDATE 9:52 p.m.: A caller on South Swan reports two black males running through a back yard. One wearing a red sweatshirt and the other wearing a tan sweatshirt.
UPDATE 10:16 p.m.: An officer reports a .45 casing has been found on Jackson. A possible suspect vehicle is a white Jeep.
UPDATE 10:53 p. m.: Jackson Street is currently closed to all through traffic. 
UPDATE 11:45 p.m.: Jackson Street is clear.
October 8, 2013 - 7:17am
#3
Unreal. I was coming home from my game and it was like Grand Theft Auto out there...This city needs to stop worrying about how nice the courthouse looks and wine walks and start cleaning up the trash coming into this city. The house on Jackson near Kwik-Fill - needs to be addressed. The scum that hangs out near Southside Deli needs to be addressed. I went in there today to get something to eat and the trash that came in there with their pants down around their ankles buying cigar wrappers - wtf?
Let's not even start about the garbage on the west end that goes into Walmart.