February 23, 2013 - 9:13am
New burglary charges against man held in alleged Jan. 1 break in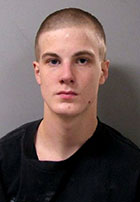 Francis Scott Smith, 19, who was allegedly caught in the act of burglarizing a home in Batavia on Jan. 1, has been accused of stealing from two other homes in Pembroke in September and October.
Smith, who is being held in the Genesee County Jail on his previous charge, was arraigned in Pembroke Town Court yesterday and then returned to the jail.
He is accused of stealing cash and jewelry from two separate homes on Read Road, Pembroke.
The new charges follow an investigation by William Ferrando with the Sheriff's Office.