June 7, 2013 - 11:00pm
New donation record set for 'Fill the Boot' campaign to benefit MDA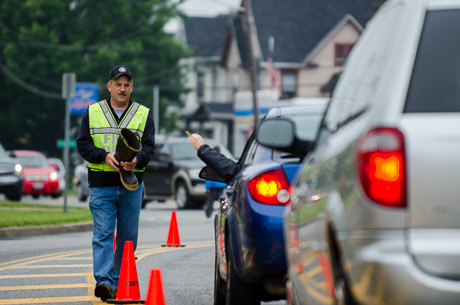 Press release:
Firefighters took to the streets of Downtown Batavia to "Fill the Boot" for the Muscular Dystrophy Association on Friday, June 7, and raised $8,541 to help find treatments and cures for neuromuscular disease. 
Members of Local 896 of the International Association of Fire Fighters (IAFF) topped their annual fundraising pledge to support MDA's vital research programs and the Associations 200 medical clinics nationwide.
"We deeply appreciate the work firefighters in the City of Batavia do for MDA," said MDA Executive Director Sally Cramer. "It does make a difference to all the people and families here who are living with muscle disease. They see the firefighters going out to support them, and it tells them they have strong partners standing by their side."
Firefighters continually put themselves at risk, whether it's battling a fire or rushing through traffic to help someone who has been injured. They have a sense of compassion for, and service to, the community that is demonstrated through their commitment to MDA.
"We like to help people, that's who we are," said Batavia Firefighters Local Union President Greg Ireland. "A huge thank you goes out to everyone who donated to the cause. Whether it was their spare change, a buck or a $10 dollar bill, it's the generosity of those who helped Fill the Boot that really make a difference."
IAFF became the first national sponsor for MDA in 1954, and over the years, firefighters have raised millions of dollars to help improve and enhance the lives of those living with neuromuscular disease. Funds from the Fill the Boot campaign also help send 3,500 kids to MDA summer camp for a free week of lighthearted fun with other kids who are just like them. Many firefighters become friends of the kids and their families, giving a week of their vacation time each year to go to camp and support their young friends.
Photo: By Howard Owens. Capt. Craig Williams collecting donations on Ellicott Street (photo taken this morning with the intention of posting this morning, but for some reason it didn't get published to the home page -- apologies to the firefighters).