February 25, 2013 - 2:32pm
Noonan wants to hear from expert before sentencing man in shaken baby case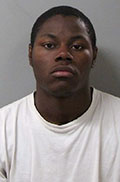 The sentencing for Randy Johnson, a Batavia man who admitted in November to causing a baby's brain injuries, was delayed today because Judge Robert C. Noonan wants to hear from an expert witness before deciding how to proceed.
Noonan said he has the full range of sentencing options for Johnson, from probation to seven years in prison, but he doesn't have enough information.
"The missing companion is a medical analysis of exactly what conduct had to be occasioned on the victim in order to cause such a serious medical outcome," Noonan said.
Noonan would like prosecution to bring in either the treating physician or an expert in shaken baby syndrome to fill in the missing information.
He said the defense would also have an opportunity to present testimony and the defense would have the option of putting Johnson on the stand.
Both of the primary attorneys in the case, District Attorney Lawrence Friedman, and Deputy Public Defender William Tedford, are on vacation, therefore not in court today. Noonan asked for a date -- 10:15, a.m. March 14 -- with both attorneys able to give an estimate of the time they would need for testimony.
The hearing will set be at a later date.
On Nov. 28, Johnson admitted to causing the injuries to the baby, but entered his pleas to reckless assault on a child on an Alford plea basis. He said he cold not admit to the specific actions attributed to him by the prosecution.
February 25, 2013 - 3:06pm
#1
I saddens me that 7 years in prison is the maximum sentence for someone that could assault an infant.