March 1, 2012 - 6:42pm
Nurse convicted of falsifying pay records to steal money from her former employer
A Genesee County jury today found a home-care nurse from Bergen guilty of filing false reports with her employer, generating compensation she hadn't earned.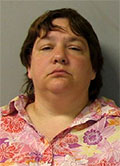 Michele Ann Case, 46, of 7100 N. Bergen Road, Bergen, was convicted of grand larceny in the third degree.
To be found guilty, the jury needed to be convinced beyond a reasonable doubt that Case stole at least $3,000 from her former employer.
She was accused of stealing more than $14,000 over a two-and-a-half year period.
District Attorney Lawrence Friedman, in his closing argument, said Case filed 230 false claims with her employer.
"How could she not be aware of what she was doing?" Friedman said.
Friedman said testimony and documents showed that Case claimed 69 times that she made "call outs" -- totaling more than $5,000 in extra billing to her employer -- that she did not make.
She would make "call out" claims, he said, during hours when she was already working, when she had training or when she stayed in the office late filling out paperwork.
Case was also accused of filing false mileage reports, and Friedman said the false mileage reports were wildly inflated -- one report had her driving 30 miles, he said, when the trip was only 7/10ths of a mile.
Friedman said the evidence showed that in all but her first mileage claim Case filed inflated mileage reports, for a total of 33 times.
"She didn't offer any explanation for the inflated milage claims because there aren't any," Friedman said.
William Tedford from the Public Defender's Office made the closing statement for the defense and said that Case did not receive any compensation she did not believe she was legally entitled to receive.
"What we see here is a wide discrepancy between practice and policy," Tedford said.
The problem, according to Tedford, is that how nurses actually completed their paperwork and computer reports and what they were allowed to claim wasn't necessarily in line with policy.
"The people are trying to convict my client of violating policy," Tedford said.
He used as an example a practice change allowing nurses to claim "call outs" that came after 4 p.m. rather than 4:30 p.m., but Friedman said "there is no massive change in policy."
The district attorney said that was the only item brought up in testimony about any conflict between policy and practice.
Tedford criticized the prosecution for not presenting paper copies of charts and the policy, and for not getting a search warrant for Case's computer. But Friedman said the reason there were no paper charts in evidence was because none exist. And a search warrant wasn't needed for the computer because, first, all of Case's files were downloaded daily to her employer's server and, second, the employer owned the computer, so a search warrant wasn't required.
When Det. Charles Dudek interviewed Case, Friedman said, Case admitted to financial difficulties. She said the father of her children was more than $70,000 behind in child-support payments.
"I can't make ends meet," Case reportedly told Dudek.
She also reportedly told Dudek that she took a big pay cut when she left a job in Monroe County, but as Dudek questioned her further, Friedman said, it turned out she hadn't quit her job. She hadn't successfully completed, according to Friedman, her probationary period on the job.
"She didn't take a pay cut," Friedman said. "She was unemployed when she went to work for (her former employer). It's just another example of her trying to con the detective."
Tedford also argued that if Case was filing obviously false reports, why did it take her employer two-and-a-half years to bring it to anybody's attention?
Friedman said her supervisors simply weren't on the alert for wrongdoing.
"You heard (her supervisor) testify," Friedman said. "She assumed she was honest. She said, 'she's a licensed nurse, a professional, I expected her to be honest.' "
Case remains out of jail pending sentencing at 1:30 p.m., May 22.
Grand larceny in the third degree is a Class D felony and punishable by up to seven years in state prison.
After the verdict, Case walked into the gallery and was embraced by her mother and she sobbed.
When she left, Case's mother approached a reporter and said, "If you put anything in The Batavian that's not true, I'm going to sue you. What those people (pointing to the representatives from Case's former employer) said isn't true."
Previously: RN accused of creating inflated call claims to steal more than $14,000
March 2, 2012 - 5:06pm
#1
Just one more example why medical cost keep going up!