September 30, 2014 - 4:40pm
Office for the Aging director tells legislature about increasing need for services locally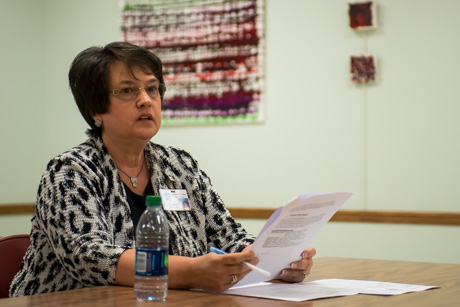 A graying population in Genesee County and ever-more constricted sources of government funding has the Office for the Aging straining to keep up, but the job is getting done, Director Pam Whitmore told the Human Services Committee on Monday during a department review.
The legislative committee met at the agency's offices on Bank Street for the briefing.
Statistically, about 20 percent of the county's population was age 60 or older in 2010, Whitmore said. Now that percentage is about 25 percent and it's expected to be 30 percent by 2020.
There is an increasing trend, said County Manager Jay Gsell, for people born and raised in Genesee County who moved away for careers and lower taxes to return in their retirement years to be closer to family.
That means even more people wanting to use the services of the Office for the Aging.
A successful program, Whitmore said, is the agency's health insurance counseling service.
In 2013, the program saved all of its clients $2.6 million combined in health insurance premiums by helping find better insurance alternatives. So far this year, the savings is $3 million.
And that's just one year of savings, Whitmore said. The office doesn't calculate what the savings might be over a period of years.
The service is primarily funded through a $32,000 federal grant and supplemented by a $10,000 grant.
For 2015, the funding seems to be in good shape, Whitmore said, but she's more doubtful about 2016 and beyond.
"The program doesn't break the bank, but it does offer a rather huge return on investment," Whitmore said. "We see it helping our local economy by creating more discretionary spending through the money people are saving."
In general, the Office for the Aging is seeing more and more people coming through its doors every day, Whitmore said.
"We're trying to manage that with the staffing we have now in the office," she said. "Our funding is capped, but the number of people who walk through the door is not capped."
There's also growing demand for the meal delivery program and medical transportation.
Home health care is also an area long on demand and short on resources.
The waiting list for services is about 40 households long, but it never grows larger because at 40 on the list, the office stops adding names.
"It could be 100 names long if we kept adding them," Whitmore said.
The service helps elderly residents who have in-home medical needs.
A big concern in the office, she said, is the lack of middle-income housing in Genesee County, she said.  
There's no shortage of low-income housing and homes that are more expensive are available, but in that middle-income bracket, especially for seniors looking for apartments, there's just nothing available.
"We'd love to see that kind of option here," Whitmore said. "It's a niche, but a niche we don't have here. We need it, too, and in our county or another county in the state is going to meet that need."