January 12, 2013 - 8:58am
Old Eagle Hotel smokin' under new ownership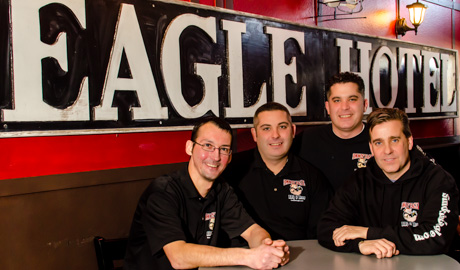 The Eagle Hotel in Le Roy may have 200 years of history behind it, but that doesn't mean it doesn't have a next chapter in life.
The landmark building has fallen into the hands of four young men who have a vision for it that should make it a go-too place for people looking for a good time and good food for many years to come.
John Marcello, Marc Marcello and Jason Beaumont have partnered to transform the Eagle into the Smokin' Eagle BBQ and Brew. They've hired Le Roy resident Shane Burger as their general manager.
"I think the concept, this building, the entertainment, the BBQ, it all kind of goes together," John Marcello said.
Jason Beaumont grew up in Le Roy and first tried to buy the building 10 years ago. It didn't work out, but when the previous owners decided to sell in 2012, Beaumont took another stab at it.
"I grew up there, and this building has so much character that you don't get in a lot of places," Beaumont said.
Since Beaumont had no experience in the food business -- his background is in the mortgage industry and has been investing in residential properties and doing property management for the past few years -- he started asking his friends John and Marc about how to run the restaurant side of his new building.
The Marcello brothers own 58 Main Street in Brockport, which is a BBQ and brew sports bar and have owned the business for 13 years.
One day, John told him, you know, we're thinking of expanding.
It didn't take long for the old friends to strike a deal on a new concept for the Eagle. The brothers would bring their experience with BBQ and beer and Beaumont would be in charge of the building.
Then they needed to recruit a general manager.
Through mutual friends, John found Shane, who has been a food and hospitality manager for the Holiday Inn and Batavia Downs.
According to John, Burger was a little skeptical at first, and John understood.
"It's his reputation on the line," John said. "He doesn't want to walk into a place that is just a bar and grill that's been here for 200 years wasn't going to change. He wants something different and he brings a lot to the table."
Once Burger understood the concept, he was sold.
" It was one of those things where I thought, 'why didn't think of that?' " Burger said. "It fit. It's a different niche here in Le Roy and I think it's being well received so far."
Since the Eagle once had a reputation for being a little on the rough side, the owners have hired big security guys for Friday and Saturday nights, installed security cameras and made it clear certain behavior won't be tolerated.
"It's about setting expectations and putting the right atmosphere right out there right out of the gate," Marc said. "The one guy who causes trouble might spend 50 or 80 bucks in a night, but he costs so much more money in the long run."
They intend for the Smokin' Eagle to be a family-friendly atmosphere. To help enhance that, they're going to open up the foyer so people coming in just for dinner can walk straight into the dining room instead of passing through the bar.
The bar itself is the same grand old hardwood counter it's always been (probably from the days when it was a pharmacy), but instead of just eight beers on tap, there are now 20.
Burger has also started booking in more live music as well as comedy acts.
"Le Roy has been starving for something like this," Burger said.
Burger has a lot of plans for the building, from removing the drop ceiling in the bar to restoring the ballroom upstairs.
"I think everybody can look forward to more changes at a slow and steady pace where everybody can feel comfortable," John said.
And then there's the issue of the third floor. It probably can't be returned any time soon to apartments or hotel rooms, but the ambiance is right for a haunted house come October.
A friend of Beaumont's has run a haunted house for years and they've always wanted to do one together, so now Beaumont has the space.
There may already even be a ghost in residence to give guests a little extra fright.
The ghost is known as "Charlie" and according to Beaumont the previous owner and previous employees have told stories about him.
Is Charlie for real? John laughed and said, "I've had some experiences when we first got here. I'm not going to go way into it, but some really creepy stuff, yeah."
As for the food, the menu features smoked pork, either pulled or ribs, and there's pulled-pork potato boats and egg rolls for a little different approach to BBQ. The two-page menu has a variety of other items and side dishes.
John and Marc Marcello started in the food business in high school, working as bus boys at the Village Diner in Brockport. When they moved to Irvine, Calif., they opened a restaurant with their father.
Then about 13 years ago, they wanted to return to WNY and heard their former employer was ready to sell, so they bought the restaurant and changed the name to 58 Main Street. 
Five or six years ago, a very popular BBQ joint in Brockport was shut down and the brothers hired a few key employees. They taught them the BBQ business and BBQ became a staple of 58 Main.
John, Marc and Jason have, over the years, traveled to various BBQ competitions, entering their own dishes. At the competitions, they found other chefs were quite willing to share their own experience and techniques, so they've been able to improve and refine their own smoking skills.
"It's a learning experience every day," Marc said. "Every day we learn something new or we tweek something and do it a little differently."
Based on what Billie and I have sampled so far, the brothers and their cook staff -- Chris Miller and Brian Canale -- have learned their lessons well.
Photo: From left, Shane Burger, Marc Marcello, John Marcello, Jason Beaumont.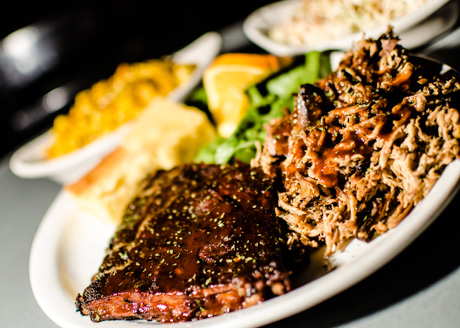 January 13, 2013 - 9:34pm
#1
Barbecue is tasty but a little pricey for comfort food. Many barbecue spots provide a value-add like having bands that you can catch with dinner.
The old Eagle Hotel lacked integration of its food and drink operations. One set of folks went there to drink and a different set of folks turned up just for fish fries.
I've seen successful barbecue restaurants in small spaces like the Smokin' Eagle's, a full barbecue menu may be an attractive option for the team to build toward. I think that a main focus should be to find ways to bridge the gap (both physically and otherwise) between the bar room and the dining room, to make the place seem a little bigger and function more like a full restaurant.
Proper barbecue along with good entertainment could be the thing that will help the new Smokin' Eagle transcend its little space in LeRoy's and become a regional draw.
January 13, 2013 - 10:08pm
#2
Lincoln, I agree. However, I have not been to either 58 Main Street or the Smokin' Eagle BBQ and Brew. I would have to see their menus and compare. I have been to Dinosaur, Sticky Lips, Famous Dave's, Harmon's Smoke BBQ (San Antonio, Texas and the best BBQ I ever had by far.) and recently, as of this Saturday night, the TEXAS BAR-B-Q Joint in Spencerport, NY with friends from Webster. They were excellent and a family own operation.
As long as Smokin Eagle can control the bar crowd and deliver a calm and enjoyable environment for the dinner crowd they should do fine. They have mention that live entertainment is in their bid to make Smokin Eagle sucessful. I recently watch one of my friends fall in his bid to run a bar/restaurant in Caledonia. The Smokin Eagle sounds like they addressed the issues at hand that, caused my friend to fail.
So, Smokin Eagle is my next BBQ target and 58 Main Street. After last night though, Texas Bar-B-Q Joint in my eyes is the place to beat. There prices and portions were great. I left full and with alot of leftovers. They do not have the different sauces like Dinosaur but, to me a great BBQ does not require any sauces if, they are done right. Best of all they are not a chain restaurant.