December 12, 2014 - 8:00am
Oliver's Candies planning new neon sign with message board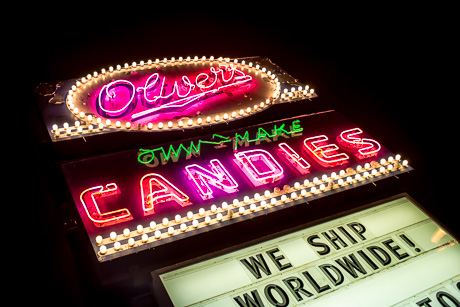 Some might call the Oliver's Candies sign iconic, but objects only become iconic with age, and age means expensive to maintain and problem-plagued.
That's the case with this sign, according to Jeremy Liles, general manager of the family business.
The sign really needs to be replaced, Liles told members of the Genesee County Planning Board Thursday night, which reacted initially with kind of a collective gasp.
The planning board was asked to review the proposal because Oliver's is seeking a special sign permit for the replacement sign. While smaller than the old sign, it will still stand 20 feet tall and be nine feet wide.
If you grew up in this community, you grew up with this sign and all that it represents. The sign has been in place since at least the 1950s. Liles is nervous some might react negatively to replacement of the sign, but he said every effort has been made to ensure it maintains its classic character.
The logo will change, the color scheme will change, but it will still be close to the same size and shape, will still be lit with neon and bordered by white light bulbs.
The new sign will be more energy efficient and will also feature a programmable message board, which, by law, will only post a new message in each 24-hour period. The update will mean no longer assigning an employee the task of changing the message on the board by hand on a less frequent basis.
Such a change of a seemingly iconic sign in Batavia isn't anything new. In 2012, Batavia Downs took down its classic neon sign and replaced it with a sign that uses LED lights, but otherwise looks exactly like the old sign. If you didn't know better, it would be hard to tell the difference.
That's the hope of Liles with this sign change, he said. In fact, Oliver's will hire the same company as Batavia Downs to build and install the new sign.
After cutting the expense of maintenance and electricity, the next important reason for changing the sign is for Oliver's to be consistant in its branding. The current logo is the Oliver's name with a cup pouring chocolate, which is not part of the current Oliver's sign.
"Brand recognition is important," Liles told the board. "You all recognize the Nike swish when you see it and when the world sees that logo I want them to think chocolate."
The new sign will also use the brown chocolate color that is part of Oliver's branding scheme now.
The county planning board recommended approval of the new sign permit. The City's planning board must approve it next before work can begin.
Below is an artist's rendering of the proposed new sign.