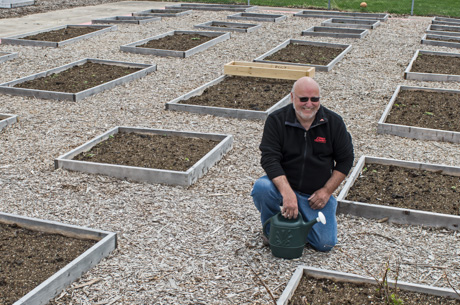 City residents are invited to an open house at the Community Garden from 9 to 11 a.m., Saturday, 10 MacAruthur Drive (behind the Batavia Youth Center, the former wading pool).
Residents can meet the garden staff and learn about square-foot gardening, which provides a way for people looking for locally, grown fresh fruits and vegetables to grow their own in a way that is easier than digging up a plot of land.
There are more than two dozen beds available for residents to rent and applications can be obtained by calling the Youth Bureau at (585) 345-6420. Prices range from $15 for a 4'x4' plot up to $35 for the one 4' x 12' plot.
Plants that might be grown include tomato, green peppers, winter squash, eggplant, cucumber, green beans, basil, parsley and beets.
A gardner could wind up with more than 50 pounds of produce out of a 4' x 4' box.
The gardner provides the seeds or sprouts, waters and cares for his or her own box and brings his or her own tools.
Pictured: Master Gardner Bob Gray.