May 2, 2011 - 10:08am
'Osama Got Obama'd' sign removed from in front of Upton Monument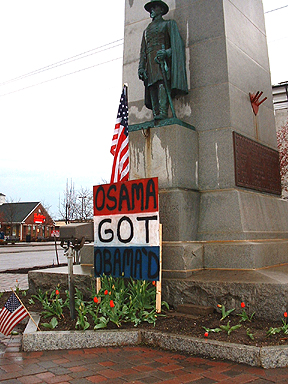 Some time over night somebody placed a red, white and blue handmade sign in front of the Upton Monument that read "Osama Got Obama'd."
By 9 a.m., the sign was gone.
County Manager Jay Gsell told Dan Fischer at WBTA that county workers removed the sign because the Upton Monument was not the appropriate location to place it.
Photo courtesy WBTA.
thats the goverment for you , running our lives again , what about freedom of speech? is this guy non AMERICAN i think so. the news channels are called i think he better have a good reason to remove a sign of justice to the AMERICAN PEOPLE.there will be some seriously pissed of vetrans and current armed service people,this guy is not an AMERICAN