November 16, 2013 - 1:13pm
Owner of one of Stafford's historic buildings says neighbor preventing restoration work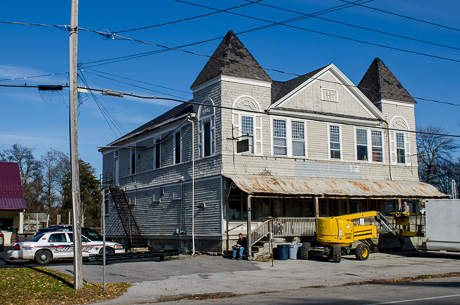 It's a beautiful day. Maybe one of the last great days to get outdoor projects done before winter hits. At least that's what James Pontillo had in mind when he pulled a high lift into the parking lot of Stafford Trading Post (he says with the shop owner's permission) so he could work on his building at the corner of Main and Morganville roads.
By now, today's roof work and gutter repair would be done, Pontillo said, if not for the trespassing complaint leveled at him by neighboring property owner Tom Englerth.
A deputy has been to the property twice today. The first time after Pontillo parked the high lift in the parking lot, the second time after he parked it in front of the parking lot. Pontillo contends that area is owned by the State of New York, not Englerth. Englerth apparently contends he controls it.
Englerth was no longer on site by the time The Batavian arrived this afternoon.
Pontillo half expected to be arrested and charged with trespassing.
Deputy Brad Mazur told Pontillo it's a complex situation given the nature of the property and the state highway right-of-way issue. He said he would need to consult with the District Attorney's Office.
Meanwhile, Pontillo has a storm drain he is worried might fall and hurt somebody, and a roof he wants to finish replacing on an arguably historically significant building and he's being prevented, he said, from getting the work done.
Previously: Fences, and more, divide business neighbors in Stafford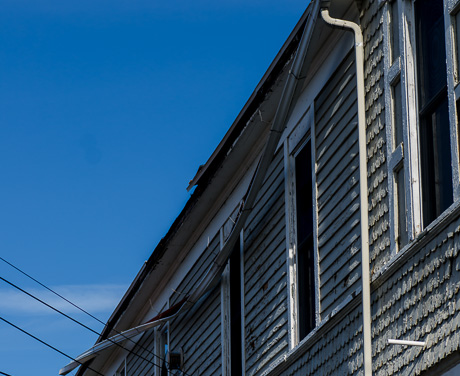 November 16, 2013 - 4:38pm
#3
Granted, we are hearing one side of the story, but it seems like Englerth is a prime example of why fences make good neighbors...