October 23, 2012 - 7:57pm
Pavilion mother admits to driving drunk with child in her car, will go through rehab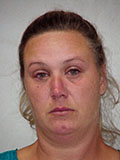 A Pavilion mother who was arrested for driving drunk with her child in her car will get a chance to get herself straightened out as part of a plea deal approved by Judge Robert C. Noonan.
Angela R. Kruse, 40, will go through substance-abuse rehabilitation for a year. If she succeeds in the program, she need serve only another four years on probation.
If she fails she will be sent to prison for four years.
Kruse was arrested in June after a tipster in Wyoming County told local law enforcement that she was driving drunk with a child in her car. She was arrested in the parking lot of Tops Market in Le Roy.
Her BAC at the time was reportedly .14 and her 4-year-old child was in the vehicle.
Today, Kruse admitted to driving drunk with a child in her car.
Currently, Kruse is being held in the Wyoming County Jail on $15,000 bail following her arrest in September for allegedly driving drunk. In that case, Kruse was reportedly involved in a single-vehicle accident in Covington.
Charges in that case are still pending and will be considered separately -- since it's another jurisdiction -- from the Genesee County case.