September 5, 2012 - 11:53am
Pembroke woman, 53, arrested on child pornography charge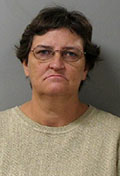 Following a multi-agency, months-long investigation, a 53-year-old woman in Pembroke has been arrested and charged with possession of a sexual performance of a child.
Beverly Hensel, of Allegheny Road, is accused of possessing child pornography from January 2008 until December 2009.
Hensel was arraigned in Town of Pembroke Court today.
Det. Kevin Czora said Batavia PD became the lead agency because the investigation originated with a different suspect in the city, but as the investigation progressed detectives connected the case to Hansel.
The pornography allegedly possessed by Hansel was obtained over the Internet, Czora said, and Hansel did not know any of the subjects in the material.
During the execution of a search warrant at the Hansel residence Aug. 15, weapons were reportedly found and Frederick Hensel Jr. is being charged with four counts of criminal possession of a weapon.
Batavia PD detectives led the investigation with assistance from the U.S. Secret Service, Tonawanda PD, the Genesee County Sheriff's Office and the Local Drug Enforcement Task Force.
September 5, 2012 - 4:20pm
#1
All that effort and money spent on catching someone with pictures. for as many years as I've been reading these reports, they all seem to have the same things in common. These people go online and download child porn on peer to peer networks and because they keep the files in a sharing location for others to retrieve from their computer, the police are able to track them down the same way they track down people sharing music files.
The thing is, they're probably trading the same pictures and videos that have been online since file sharing was made easy. I don't think I've ever heard of one of these people actually molesting a child.
Before you go all ballistic on me about how these people are the reason why child pornography is created in the first place, let me say that I just don't agree. Child pornography is produced because there are people who like molesting kids and they want to film it so they can watch it over and over. People who are getting it for free on P2P networks aren't the threats and I don't want to have to pay to house and feed them when the person who made the porn is still out running free.
It all seems like a lot of effort to catch picture and video peepers and at a huge expense to tax payers. Go after the people who made the porn, especially if it's something new that hits the file sharing networks. The police must know which images and videos are decades old and which are new, so go after the source.