April 29, 2013 - 12:17pm
Photo: 400 Towers' expands space for its library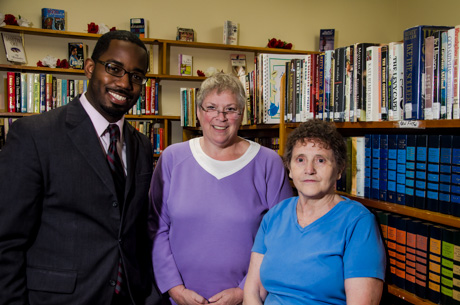 Residents of 400 Towers celebrated the opening of a new library today. The old library was in a smaller room. Now in a bigger room, there's more space for residents with walkers and wheelchairs to move around, plus more titles can be added. The library carries fiction and nonfiction, DVDs and VHS tapes.
Pictured are Thomas Baines, executive director of 400 Towers, Cathy Plaisted, SAGE coordinator for the Richmond Memorial Library, and Pat King, 400 Towers librarian.
The titles in the library's permanent collection are all donated. Plaisted brings a cart of new titles over from Richmond every couple of weeks to supplement the permanent collection. She praised King for keeping the 400 Towers library well organized, better than libraries available to seniors in many other locations.
April 29, 2013 - 6:51pm
#1
As President of the 400 Towers Residents Council, it was with great pleasure to see the library move into a more accommodating space. Today's grand opening was a tribute to Pat King for her dedication to the library; Thomas Baines for approving the move; Jim and Dottie Beach who baked and donated the cookies and brownies for the coffee hour, and to George from our maintenance crew. His carpentry skills made it all possible. Thanks to Cathy Plaisted, SAGE coordinator for the Richmond Memorial Library. We, at the Towers, appreciates all that she does for us.
Special thanks to Howard for taking time out of his busy day to drop by. You are the best!