April 6, 2015 - 6:47pm
Photo: Barn on Upper Holley Road, Byron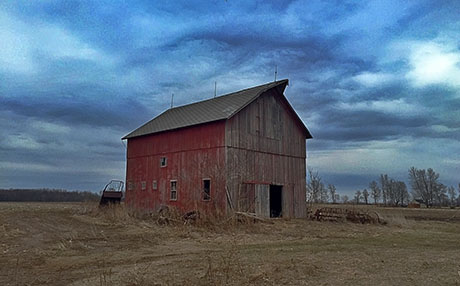 Out and about late this afternoon, I found myself in a situation that hasn't come up for a long time -- I was driving on a road in Genesee County that I've never been on. In this case, Upper Holley Road, Byron. And I saw this barn I've never seen before. I also found both batteries in my Nikon were dead, so this was actually shot with my iPhone.
April 6, 2015 - 8:21pm
#1
Howard! That is an awesome picture. Did you hit the brakes when you saw that? You've captured a wonderful barn in this photo. I can see the lightening rods on the top. The sky is gorgeous.
April 7, 2015 - 10:01am
#2
Understandable that you'd never been on that road before Howard, only about a quarter mile of it is actually in Genesee County though. Did you know there are two Upper Holley Roads running parallel with each other only a few hundred yards apart? The other one pretty much goes to nowhere, so you were most likely on "the big one".
Geeze... out here ridin around in my "hood" and you didn't stop by? Shame on you!