May 17, 2012 - 5:26pm
Photo: Guard posted at Bank of America in Le Roy
posted by
Howard B. Owens
in
Le Roy
.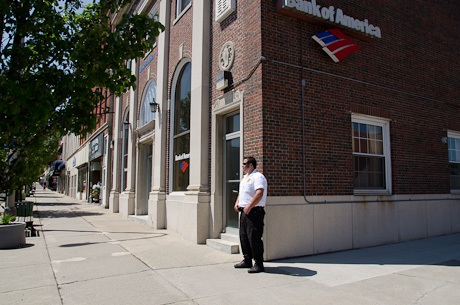 Village of Le Roy residents are wondering why a security guard suddenly appeared at the Bank of America branch on Main Street.
Speculation centers around concern over protests against B of A, but those took place during the bank's shareholder's meeting May 9 and mostly in other parts of the country.
A spokesman for B of A said the bank doesn't discuss bank security.
Here's the short story(fact): A bank employee was being harassed by an ex-boyfriend and she had called the village police on several occasions to get an order of protection but the LeRoy P.D. refused to issue one. Her ex-boyfriend would drive around her home & place of employment all day & night long and make threatening phone calls. He then went to the BoA(her place of employment, and just totally lost it and started to cause a scene inside the bank. BoA security had caught the incident on camera and asked the LeRoy branch what was going on. After finding out that the LPD would not do anything about this, they had sent their own security team to the bank to keep the harasser away from their employee. There is more to the story, but this is the gist of the matter.