May 13, 2013 - 9:18am
Photo: A reminder about motorcycle safety on local roadways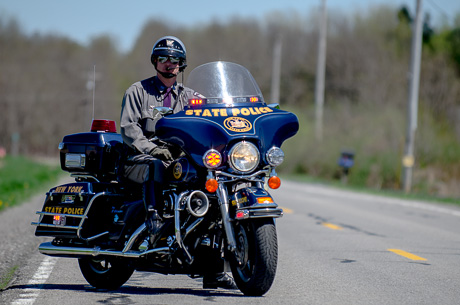 Meet Trooper Mike Niezgoda, who is part of the State Police motorcycle detail out of Clarence.
Trooper Niezgoda was nice enough to meet me one day out in Pembroke for a photo and an interview to coincide with Motorcycle Safety Month. It was a great interview. Unfortunately, my recorder failed me and the interview was lost.
We've tried to arrange a follow-up phone interview, but it hasn't quite come together.
But it's still an important public service message: Be careful out there.
Car drivers, be aware that you share the road with two-wheeled friends. 
One thing Niezgoda emphasized is "look twice." Most car-motorcycle accidents occur at intersections because drivers simply don't see the approaching motorcycle so they pull out into traffic, especially when making turns.
Drivers need to be careful about following too closely behind motorcycles. Hitting a bike from the rear can be fatal for the rider, even if the speeds would have resulted in just a fender-bender for cars.
For motorcycle riders -- get as much safety training as you can, wear DOT approved helmets, and be alert for drivers pulling into your path.
A couple of notes about Niezgoda and his bike. Trooper Niezgoda is also a Marine. He served a tour in Iraq and two tours in Afghanistan. He is passionate about motorcycles and rides a Harley in his off-time as well. The Harley he is riding was part of the factory output on Sept. 11, 2001. Harley-Davidson donated that run of bikes to NYPD and State Police.
I'm sorry, but I have to disagree with you guys. The best place for a bike to ride is in the same place that a car's tires travel, as that's where the most traction is and where the pavement is the cleanest. And It's safest for us to ride in the one closest to the yellow line. There are multiple reasons for this. Just to name a few:
1.) The road is not level, it slopes downward towards the shoulder, with the yellow line being the highest portion. This naturally means that the area near the yellow line is the driest and cleanest. Fluid spills run towards the shoulder. If it's raining, the area near the shoulder is going to be the wettest.
2.) Near the white line, there is a TON of gravel/dirt/lawn clippings and whatever else that can cause a bike to lose traction in a fraction of a second. The center of the road is just naturally much cleaner and safer.
3.) Motorcycles are not very visible. 90% of car vs. motorcycle accidents are from cars pulling out in front of bikes because they didn't see them. Riding on the shoulder makes us even less visible, while riding towards the center of the road allows us to be more visible to drivers who may not otherwise see us, because we are closer to the center of their field of vision.
Remember, that motorcyclists have the right to use the entire lane that they are in. It is the riders responsibility to stay in their lane, just as it is your responsibility to remain in yours. As long as you stay on your side of the yellow line, you'll be fine.
As far as "weaving in and out of traffic," otherwise referred to as lane splitting, it is illegal in NY, however in many other states it is legal, and many motorcycle safety experts agree that it is the safest way for a motorcyclist to navigate through slow moving, stop and go traffic. They cite statistics that show that a majority of motorcycle crashes take place when the bike is sitting in stopped or slow moving traffic, and is rear ended because the driver of the other vehicle never saw them. Lane splitting allows the motorcycle rider to take control of his own safety. It eliminates the possibility of being rear ended, and gives you a better view of traffic flow, allowing you to more easily avoid hazards. Again, it's illegal in NY, and therefore I don't do it, but many experts have done studies that show it is the safest way to ride.