June 30, 2011 - 11:35pm
Photo: Settler's owner celebrates 60th birthday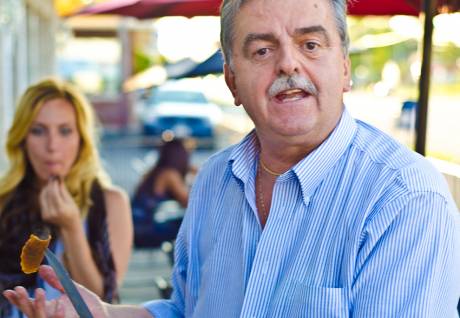 Before going out for a early evening drive, I stopped by Billy Goats where a birthday party for Steve Spyropoulos was just getting started.
Steve, who turned 60 today, and his son, John, own Settler's Restaurant and Billy Goats.
Steve was proudly serving up BBQ chicken and ribs and I got there just in time for a couple of slices of gyros -- the best gyros you've ever had. And if you've never had gyros, I suggest stopping into Settlers and asking for it. It's not always available and never on the menu, but according to John there will be some gyros specials coming up soon.
Even though it was Steve's birthday, he said the extra food spread was his way of thanking customers for their support.
July 1, 2011 - 10:01am
#2
I remember when it was the Red Barn. It was the first time I ever smelled the tantalizing odor of fast food cooked in grease. I no longer eat it but I still love to smell it.