June 18, 2013 - 10:46pm
Photo: Twin track stars get a tune up before leaving for 800 meter U.S. championship race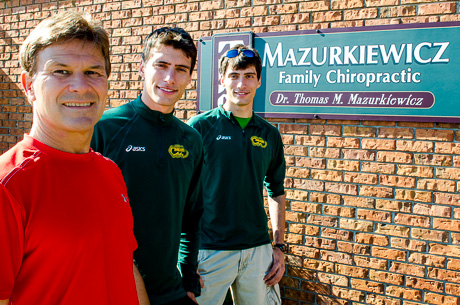 Chiropractor Thomas Mazurkiewicz invited me over to his office this afternoon to meet Nick and Josh Guarino.
The twins are graduates of Byron-Bergen High School and will compete this weekend in the U.S. Track and Field Championships in Des Moines, Iowa.
They qualified in a meet Saturday -- the last chance to qualify -- by running their personal best times in the 800 meter. Nick won the race with a time of 1:47.13 and Josh was third at 1:47.35.
At the U.S. Championships, there is a field of 37 runners competing for three spots on the U.S. team that will compete in Moscow at the world championships. There are 14 runners who qualified with faster times than Nick. The fastest qualifying time is Duane Solomon at 1:42.82.
"I probably don't have a shot at that (going to Moscow)," Nick said. "But my dream is to make the Olympic team or world championship team."
Mazurkiewicz is doing what he can to help. Mazurkiewicz explained that a slight hip misalignment can cost a world-class runner vital 10ths of a second, which can be the difference between winning a medal or being an also-ran.
Misalignment, he said, can also lead to injury.
There will be dozens of chiropractors tending to runners at the U.S. Championship, Josh said, but they were at Mazurkiewicz's office today for their pre-race treatment.
"Treating athletes is like fine tuning a car," Mazurkiewicz said. "Chiropractic adjustments give athletes a winning edge by giving them proper bio-mechanics, structure, increased range of motion along with proper posture and balance."