June 7, 2011 - 12:46am
Photos: Batavia Motel becomes training ground for volunteer firefighters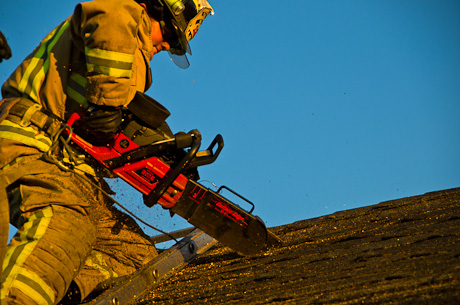 Today, the former Batavia Motel on West Main Street became a training structure for volunteer firefighters as the Town of Batavia Fire Department began a bit of the dismantling process.
The hotel, acquired by the town a couple of months ago, is to be torn down (or burned down) to make way for an expansion of Lion Park.
The town condemned the property at  3768 W. Main Street Road in December, sending about seven residents looking for new places to live.
A couple of months after condemning the property, the town completed the purchase.
Town of Batavia Fire Chief Randy McIntire said the department isn't sure how much training it will be able to do on the building. The town may want it down pretty quickly and there might be some complications related to asbestos removal. 
At least for the next few weeks, however, firefighters -- and perhaps local law enforcement -- can use the worn-down structure for training.
Tonight, firefighters worked on venting -- the practice of cutting holes in the roof of a burning structure to allow heat and smoke to escape.
BTW: If this looks like your idea of fun and public service, visit ReadyGenesee.com to find out more about volunteering for your local fire department (city residents can volunteer for the Town of Batavia Fire Department).