November 13, 2012 - 5:32pm
Photos: Muller Quaker hosts information session at GCC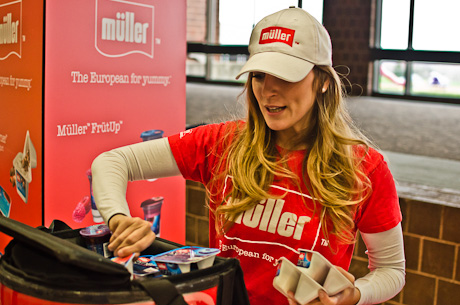 If you've wondered what Muller Quaker Dairy is all about, or want to find out about employment opportunities, today was the day to meet executives, try out some yogurt or put in a job application at GCC.
Hundreds of people turned out in the afternoon and the event continues until 8 p.m. in the forum.
"We're excited to be a part of the local community, so we wanted to open our doors and let people know a little more about us," said Scott Gilmore, director communications for PepsiCo, one of the partners in the new yogurt plant at Genesee Valley Agri-Business Park.
There were executives on hand to explain plant design and operations, the booming yogurt industry and the nature of the partnership between PepsiCo and the Germany-based Theo Muller Group.
The yogurt plant is expected to employ nearly 240 people in its first round of hiring, and some local residents have already landed jobs with the company.
Muller Quaker HR personnel were on hand today accepting applications, meeting with job candidates and explaining more about employment options at the new plant.
At one point today, the job applicant line was more than a couple dozen people long.
Gilmore said people in blue jeans and people in suits showed up today, demonstrating the diversity of jobs that will be available at the plant.
If you're not able to make it to GCC by 8 p.m., Gilmore said the company plans more such community events, or job applicants can e-mail their resumes to [email protected].