April 20, 2012 - 6:48pm
Photos: St. James restoration project reaches pinnacle with placement of new cross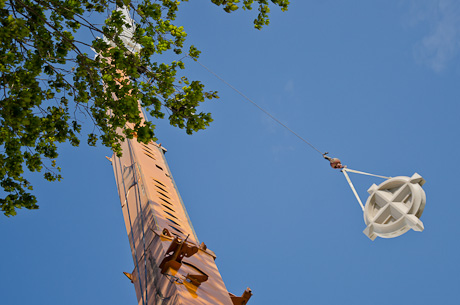 Though it ways more than 2,600 pounds, a new Celtic-style cross was placed with loving care atop the tower at St. James Episcopal Church in Batavia this morning.
The cross raising caps a $500,000 restoration project at St. James that should be completely finished some time in July.
Bill Farmer, chairman of Catenary Construction, said his crews have repaired mortar, replaced 278 pieces of stone and put a new roof on the tower. In a few weeks, the white wrapping around the scaffolding will come off, the scaffolding lowered and the giant stained glass window repaired. When that's done, the project is done.
As the cross was raised this morning, Farmer and Rev. Steve Metcalf looked on with obvious joy.
"This is without a doubt the best part (of the job)," Farmer said. "It's a pretty noble service to set a cross and it's a once-in-a-professional-career moment."
The cross is a highly compacted concrete, and where the previous cross lasted only about 100 years, this cross will last hundreds of years, Farmer said.
"We're very pleased with it," Metcalf said. "(As I watched the cross go up) I began to think about people being able to see a new cross as a sign of renovation, not only of the building, but of this congregation."
When Metcalf arrived at the church a couple of years ago, he said, the facade was crumbling and it was hard for anybody to even approach the building. The front doors couldn't even be opened.
"There was this sense that we weren't open to the community," Metcalf said.
Donations from the congregation and members of the community along with state charitable grants helped pay for the restoration.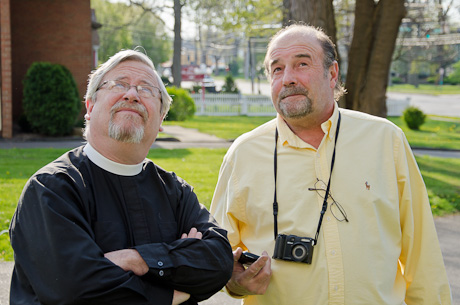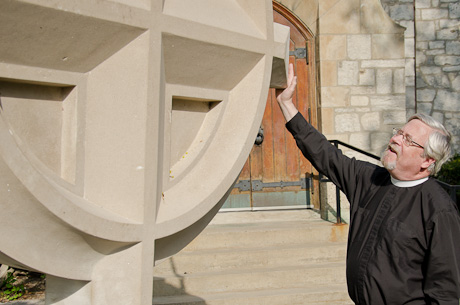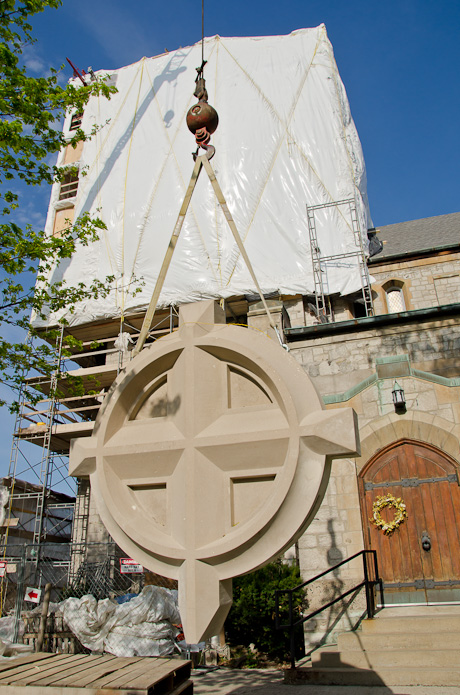 If you're unable to view the slide show below, click here.