January 19, 2012 - 8:35pm
Plea entered in alleged murder-for-hire case
The hit man was named "Shootout" and the target was an alleged criminal associate of two brothers sitting in the Genesee CountyJail. But the simple plan turned out not to be as simple as the brothers reportedly hoped.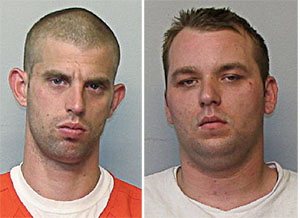 "Shootout" couldn't make it to New York, and when the brothers allegedly found another hired gun, it turned out they were allegedly handing their money over to an informant for the Sheriff's Office.
The details of a murder-for-hire case came out in county court today when Justin Barker, 22, one of the brothers allegedly involved in the gruesome plot, entered a guilty plea to the conspiracy charge.
The charges against Derrick Barker, right, are still pending.
Justin entered an "Alford Plea," which means he acknowledges a jury would likely find him guilty of the crime based on evidence presented by the prosecution, but does not admit actual guilt.
The plea requires the prosecution -- in this case, Assistant District Attorney Will Zickl -- to recite the evidence against the defendant.
Zickl said that, in part, the prosecution has copies of notes passed back and forth between Justin and Derrick, an audio recording of Justin and Derrick discussing their alleged plans with a person who turned out to be an informant, and information on the money obtained by the brothers. The prosecution also says it has photographic evidence of the money being turned over to the supposed second hit man, who turned out to be working for the Sheriff's Office.
The original plan, according to Zickl, was for a hit man named "Shootout" to travel from Georgia to New York and kill Benjamin Santiago Jr., who was arrested with the Barker brothers June 2.
The brothers allegedly believed that Santiago had provided information to the police about their suspected criminal activity.
When the brothers allegedly could not secure the services of "Shootout," Derrick allegedly asked another Genesee County Jail inmate -- who was already working with authorities -- if he knew anybody who could do the deed. The informant said he did, but that it would cost the Barker Boys $600 to get the job done.
"The Sheriff's Office observed the $600 being handed over to the cooperative associate and the money was then turned over to the Sheriff's Office and held for evidence," Zickl said.
While Justin did not admit factual guilt to the conspiracy charge, he did plead guilty to a count of  burglary, 3rd.
Justin admitted breaking into the Beaver Brothers Restaurant at Darien Lake Theme Park in September 2009.
Justin Barker, who is facing a two- to six-year prison term, is being held in the jail pending sentencing without bail.