June 14, 2013 - 1:27pm
The Pok-A-Dot, a Batavia landmark, turns 60 this month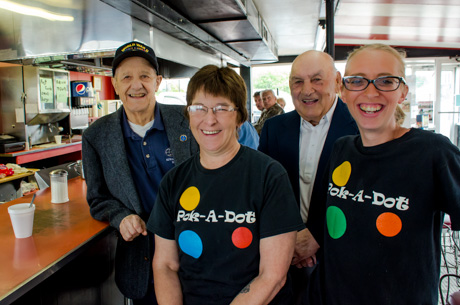 The Pok-A-Dot turns 60 years old this month and co-owner Phil Pastore couldn't be happier.
Not many restaurants survive 60 years, and fewer still with the same ownership.
"It's probably one of the greatest things in my life, to own something for 60 years and still be alive to appreciate it," Pastore said.
"We're quite proud," said his wife, Leona, "quite proud."
Pastore said his friend Joe Marone, who ran a concession business, came to him one day while he was working at Masse Harris and suggested they open a hot dog stand at the corner of Ellicott and Liberty streets.
In the 60 years since, the Pok-A-Dot has become a landmark, a throwback to a simpler time of friends and neighbors seeing each other every day and sharing a bite to eat. It was the favorite restaurant of famed author John Gardner and has become a must-visit stop for many politicians on the campaign trail.
It's been featured in international media reports.
And still, it's a place where locals come for coffee and breakfast or a beef-on-weck every day.
"It's the food," Pastore said, explaining the Pok-A-Dot's success. "And it's a very friendly place, a place where you can sit around an eat and talk with people. That's what it's really known for."
The 60th anniversary celebration will be from 5 to 9 p.m., June 22. Musician Bill McDonald and friends will play and many old friends are sure to gather.
Photo: Joe Marone, Joanne Cox, Phil Pastore and Nicole Johnson.
June 14, 2013 - 2:18pm
#1
Congrats! We love The Dot!!!
June 14, 2013 - 3:03pm
#2
The Pok-A-Dot, and 'the gang' there, is at the VERY TOP of my 'most missed' list of things in Batavia.
Good food, Good people, and Good times!! What more can one ask for?
I'd stop there daily, now, but it's a 1200-mile drive. "Darn it!!"
"Hi!", to all my friends there.
And a Very Special "HI!" to Jo.
Hey, Jo, on July 9th, would you give "T" a b'day kiss for me? See, I didn't forget! How could I? We share that date.