October 7, 2013 - 9:14pm
Police announce arrest of suspect in alleged robbery of 7-11 in Batavia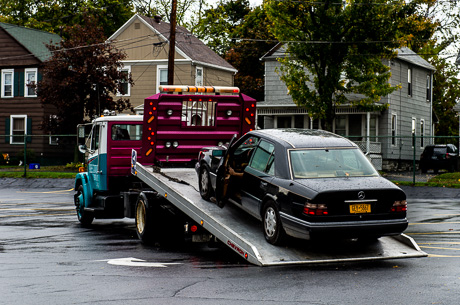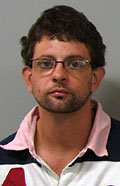 Not only was Michael C. Kraatz hauled off to jail today in handcuffs, his car was impounded as well as part of a Batavia PD investigation into a Sunday morning strong-arm robbery of the 7-11 store on East Main Street.
Kraatz is charged with robbery, 3rd, grand larceny, 4th, and resisting arrest. He was jailed without bail pending his next court appearance.
The 34-year-old Batavia resident is accused of entering the 7-11 at 4:04 a.m., Sunday, grabbing a clerk and demanding money.
The suspect fled the store on foot with an undisclosed amount of cash.
When asked about the robbery this morning, Chief Shawn Heubusch characterized the case as "a very active investigation."
Three hours after Heubusch made that statement, police were knocking on the door of a residence on North Spruce Street.
Officers reported over the radio that the suspect was fleeing -- Kraatz allegedly jumped out of a rear window -- and minutes later an officer reported that he was "15" (code for making an arrest) with the suspect in the parking lot behind the apartments at 20 N. Spruce St.
As part of the investigation, police identified a late model Mercedes Benz as a suspect vehicle, which may have helped lead them to Kraatz. The vehicle was impounded shortly after Kraatz was taken into custody.
The Sheriff's Office and State Police, along with Genesee County Jail personnel, assisted in the investigation and apprehension of Kraatz.
Investigating the case from Batavia PD were: officers Arick Perkins and Matt Lutey; detectives Paul Caffo, Kevin Czora and Charles Dudek; Det. Sgt. Pat Corona, Todd Crossett and Sgt. Dan Coffey.
In New York, a person is guilty of fourth-degree grand larceny when the value of the property stolen exceeds $1,000.
CLARIFICATION and UPDATE: While one subdivision of grand larceny 4th states a theft of property worth $1,000 or more, there's also a subdivision that covers the alleged use of extortion and the threat of physical harm during the course of the theft.  That is why Kraatz was charged with grand larceny 4th.  However, it turns out, that the same set of circumstances can also lead to a charge of grand larceny 2nd and the charge against Kraatz are scheduled to be upgraded today to grand larceny 2nd.
Previously: Police nab suspect in robbery of 7-11
October 8, 2013 - 1:21am
#2
i don't understand??? If hes being charged with grand larceny 4 and thats when you steal more than 1000.....
how did 7-11 have that much money out at 4am???? I know for a fact that you are not to have more than 50 in your drawer at any time.... there is no other money out for someone to take... the safes are all time locked