August 29, 2011 - 10:17am
Police Beat: Golf cart driver in a 'clown suit' nabbed by law enforcement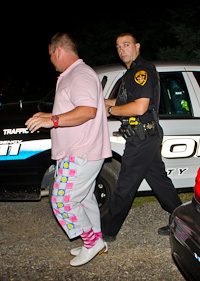 James R. Straub, 37, of Stoneham, Mass., is charged with DWI and refusal to take a breath test. Straub is accused of driving a golf cart on a public road while under the influence of alcohol. Witnesses contacted dispatch at 8:40 p.m. Sunday to report that a man in a "clown suit" (as the photo shows, more like a wild golf outfit) had taken off in a cart owned by Terry Hills and was heading toward the City of Batavia on Clinton Street Road. Straub was eventually located at a residence in the city where he was taken into custody by Deputy Bradley Mazur. Straub was arraigned in Town of Batavia Court and committed to the Genesee County Jail without bail. Straub is reportedly out on $500. Batavia PD assisted in the investigation.
Douglas Brian Uberty, 39, of South Street Road, Le Roy, is charged with two counts of disorderly conduct. Uberty was taken into custody by Deputy James Diehl following an investigation into reports of a man in the Target store at 7:30 p.m., Aug. 17, attempting to look up the shorts and skirts of women in the store. Uberty is also accused of peeping over the wall of a fitting room in the women's department.
Shawn Dowain Phillips, 18, of Bartlett Street, Rochester, is charged harassment as a violation. Phillips is accused of dragging a person outside and punching the person in the face. The incident was reported at 1:44 a.m., Sunday.
Rexine Evelyn Johnson, 45, of Seldon Road, Le Roy, is charged with harassment, 2nd. Johnson is accused of pushing a female friend twice.
Vincente Antonio Torres, 20, of Willowen Drive, Rochester, is charged with DWAI, speeding (63 mph in a 40 mph zone) and driving out of class. Torres was stopped at 2:48 a.m., Saturday, on Main Street Road, Batavia, by Deputy Howard Carlson.
Ryan Andrew Grady, 20, of Pearl Street, Lancaster, is charged with unlawful possession of marijuana. Grady was found to allegedly possess marijuana while in the parking lot at Darien Lake at 11 p.m., Aug. 7, by Deputy Brian Thompson. 
A 17-year-old of Black Street, Sloan, is charged with unlawful possession of marijuana. The youth was charged after allegedly being found with marijuana while in a car parked at Darien Lake Theme Park by Deputy Brian Thompson.
Paul Anthony Swartz, 36, of Route 20 A, Orchard Park, is charged with unlawful imprisonment, 2nd. Swartz was arrested in Darien on a warrant out of Tonawanda. Swartz was turned over to Town of Tonawanda Police.
Charnika Darshae Givens, 19, of Northumberland Avenue, Buffalo, is charged with petit larceny. Givens is accused of shoplifting from the gift shop at Darien Lake Theme Park at 5:30 p.m., Aug. 6.
August 29, 2011 - 6:03pm
#4
Hey George, speaking of the intrepid reporter Howard Owens...Little stories sometimes get surprisingly wide coverage.
Channel 13 in Rochester came out to his office on Main Street today and interviewed him on his eyewitness account of the Wiener Dog Race, set to air later tonight.
AND, would you believe MSNBC called and asked to pay him $50 to use the picture of the guy in the "clown suit" accused of allegedly stealing a golf cart. He agreed to the deal. I hope he also asked for on-air credit to The Batavian.
LOL