May 23, 2013 - 4:06pm
Police looking for public's help in finding boy allegedly slammed to floor of Walmart by adult male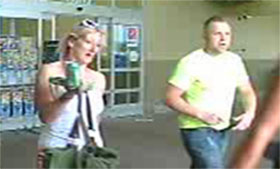 Police are concerned for the well being of a young boy whom witnesses say was slammed to the floor by a male subject while inside Walmart and are seeking the public's quick assistance in locating the boy and the suspect.
A witness said he saw a man pick up a boy who is believed to be about 8 or 9 years old, lift him over his head and slam him to the floor.
Trooper Holly Hanssel said she believes the boy suffered injuries.
The man, the boy and a woman along with two other boys, believed to be ages 4 and 5, left their basket of items and exited the store after a man who witnessed the incident confronted the suspect and told him to stop.
The group ran toward the exit and drove away in a dark-colored sedan in the style of a Buick Century or Chevy Lumina.
The alleged incident was reported just before 2:45 p.m.
The male suspect is described as white with dirty blond hair and 5'8" tall. The female is blonde, wearing a red tank-top and skirt. The boy was wearing a green shirt.
Anybody with information that may assist in locating the boy so police can check on his welfare are asked to call the State Police Batavia Barracks at (585) 344-6200.
UPDATE 6:30 p.m.: Law enforcement has taken into custody 28-year-old Christopher Cummings, of Pavilion, in connection with the incident. Charges, if any, are as yet unspecified. Child Protective Services responded and notes there are bruises to the child's arm.
Note: No further phone calls about this incident are necessary. Law enforcement has enough information at this point, but thanks the public for their assistance.
This picture should be distributed to the schools. A teacher may recognize these parents. And they can watch for a child who misses school tomorrow, as the parents may go into hiding since this is public. People are sharing this story on Facebook like mad. Hopefully it will help!