May 15, 2011 - 2:08pm
Popular local teacher proud to watch former typing student run for Congress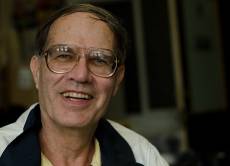 Popular local teacher Jim Owen, who has been turning students into fans for more than four decades, has an interest in the NY-26 special election race that's a bit different from a lot of other Genesee County residents.
One of his former students is on the ballot.
Back in the mid-1970s, Kathy Courtney took a typing class from Owen.
Eventually, she would marry Bill Hochul, become a member of the Hamburg Town Board, then clerk of Erie County and now, she's the Democratic nominee for a seat in the U.S. House of Representatives.
"As a teacher, you have students in a classroom as juniors or seniors and you have no idea where they might go," Owen said. "Then when you read the paper that they've been very successfully -- obviously, I had nothing to do with it -- but it's nice to say, 'hey, I had her as a student.'"
Kathy Hochul isn't the only famous name that Owen can list as a typing student during his 35 years of teaching at Hamburg High School. 
Pulitzer Prize winning cartoonist Tom Toles was also a student.
"I wish I'd gotten one of his cartoons back then," Owen said.
Owen, who also coached her brothers and cousins in track and field, remembers Hochul as a diligent student.
"Now, in typing, we don't communicate too much because you're supposed to be typing, and she was," said Owen. "She did her work."
Owen wasn't sure Kathy would even remember him.
On the campaign trail today, Hochul had time for a brief conversation and said Jim Owen is certainly "somebody stuck in my memory bank" as an important person in her young life.
"The students loved him," Hochul said. "He had a real way to take something as mundane as typing and make it real fun. He was very popular with all of the students."
A staunch Republican, Owen won't reveal who he's voting for, but admitted he can't help but root for Kathy.
"It's kind of neat to say, 'Here's a young lady I had in class and now she's running for Congress,'" Owen said. "I wish her a lot of luck. I hope things work out for her."
He added that he thinks "all three" candidates, especially the "two young ladies," would represent the community well, and he's expecting close results -- so close that a recount may be necessary.
Now a substitute teacher for Batavia City Schools, Owen doesn't know if he'll be required to work Tuesday. If he's off, he plans to attended the candidates' forum at 11 a.m. at the YWCA on North Street. If he makes it, it will be the first time teacher and student have seen each other in more than 20 years.