October 12, 2011 - 8:25am
Possible hazmat issue on West Main between Hopkins and Powers roads
posted by
Howard B. Owens
in
batavia
.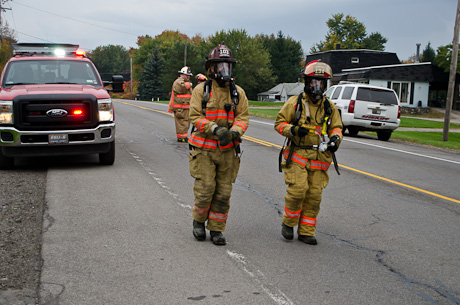 UPDATE 11:30 a.m.: Route 5 is reopened. The scene is "all clear." Residents of the area can resume normal activity.
UPDATED 8:54 a.m.
There is a report of a strong odor of ammonia on West Main Street Road between Hopkins Road and Powers Road in the Town of Batavia.
East Pembroke Fire Department along with Genesee County Emergency Services, Sheriff's Deputies, State Police and Mercy EMS are on scene.
One person has reportedly complained of eye irritation.
The strongest area of the odor is reportedly right at Hopkins Road.
Route 5 is shut down at Wortendyke Road and at Hartshorn Road. The emergency staging area is in the parking lot of First Choice Travel.
UPDATE 9:20 a.m.: Charlie Woodruff, owner of Woodruff Doors, said he and his wife came into work this morning and were unloading a truck of yesterday's debris and after about 10 or 15 minutes, his eyes started watering. After two more employees showed up and reported irritated eyes, he told them to leave and his wife called 9-1-1. He said, "I didn't really smell anything. It was just more irritation to the eyes."
UPDATE 9:51 a.m.:  The cause is a chlorine chemical spread on a farm field north of Route 5. It's a common chemical used on agricultural soil. Typically, the chlorine would dissipate quickly, but because of the low winds over the past couple of days, the chemical has hung close to the ground. With the low winds and cloud cover today, it became more concentrated leading to throat, nose and eye irritation. At the current concentration, the chemical is not seriously harmful. About 177 residents in the area are being notified via reverse 9-1-1 to stay in their homes and call 9-1-1 if they notice any issues. Route 5 will be closed for some time yet. Emergency personnel will remain on scene until the rains start and the wind picks up, which will cause the chemical to dissipate or settle back into the ground.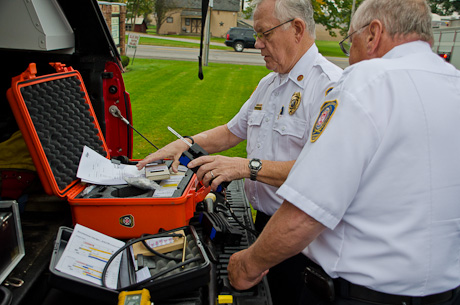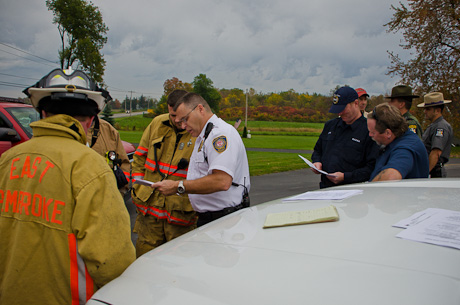 October 12, 2011 - 3:04pm
#3
Holley, if it feels like you have been using too much bleach, that's a symptom. It sounds like you have a symptom, of course if you pass out and die you will never know if it was or not but we will be sure by then, that it was indeed a symptom. Then again, it could be a high mold or pollen count. Glad I'm not Dear Abbey.