June 26, 2013 - 7:23pm
Quick State Police response thwarts burglary in Pavilion, but suspects slip out before dragnet in place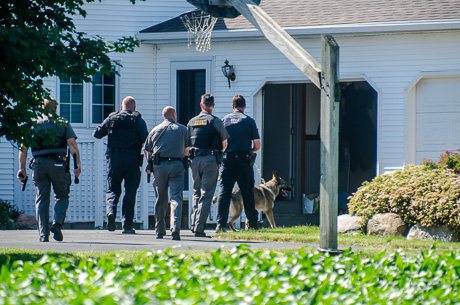 For nearly five hours today, State Police commanders figured time was on their side after receiving a report that would-be burglars were still inside a residence on Shepard Road in Pavilion.
A neighbor saw an older tan minivan pull into the driveway of the residence and two men got out and appeared to enter the house. The minivan then left.
Trooper John Szymkowiak arrived on scene within minutes of the initial report and a witness told him that the men he'd seen enter the house hadn't left.
Szymkowiak, who was dispatched just before noon, immediately called for backup and requested assistance to establish a perimeter around the house. He also requested an investigator from the Batavia Barracks and a K-9 to the scene.
State Police were assisted by the Livingston County Sheriff's Office and the uniformed and plain clothes members of the Genesee County Sheriff's Office. Deputies also set up road blocks on both ends of Shepard Road for a couple of hours and patrolled the area looking for the minivan.
With all the necessary support in place, State Police commanders took a very deliberate approach to determining whether the suspects were still inside.
"Once we have a perimeter set up, we know nobody is going to leave at that point," said State Police Lt. Kurt Schmidt. "Apparently they got out before we set up, but you can never help that. We set up a quick perimeter, so we're sure at that point that the house is ours. There's only a very few things that would make us want to hurry and none of those were present today."
The first step in the deliberate process of determining whether suspects were inside was to deploy a robot from the Livingston County Sheriff's Office. That robot, equipped with a camera, checked all around the house looking for any evidence of entry or exit.
Next, the robot unit from the State Police arrived on scene. So two robots were deployed. One was equipped with a key to the entry door from the garage. The other was used to drop a steel block in place to hold the door open once it was unlocked.
The robots then entered the house and began a room-by-room check of most of the downstairs.
With the owner watching a television over the shoulder of one of the robot operators, he could see that a TV was missing, drawers and been opened and other items were missing from their proper locations.
At that point, with confirmation that burglars had entered the house, Schmidt said the operation took an even more methodical approach to ensure no suspects were inside.
"We have technology and we're not in any big hurry," Schmidt said. "We have a visual on all sides. We have robots that go inside, so no troopers are in any danger. That takes time and you get kind of tired waiting around, but it's worth it because we don't want to take a risk."
As time dragged on, State Police began to increasingly believe the structure was empty, so members of the other agencies began to peel away and go back in service.
The robots continued to search the house and its operators told to any possible suspects inside that the robot was from the State Police and that K-9s would be sent into the house if they didn't surrender.
A door was closed to one downstairs room and a robot was positioned there, so if suspects were inside they wouldn't be able to open the door.
About this time, a man who had been found wandering down Transit Road was brought to the scene. The Rochester resident couldn't explain why he was in Pavilion, according to police, so he was taken into custody and transported to the Batavia Barracks for questioning.
"The person we're speaking to now stated he was never at this house," Schmidt said. "We believe he was, but we don't have any evidence to say he was, so he's not giving us anything -- as far as anybody else who might have been around."
The person being questioned is black. A witness could describe the skin color of the men who entered the house, but believed they were wearing colorful clothes.
The suspect vehicle is described as an older tan minivan, which was last seen on Transit Road.
After the suspicious person was taken into custody, the State Police helicopter was dispatched to conduct a search of the area.
Once the robots had searched the house a bit, Schmidt said police felt there was little chance the suspects were still inside, but as a matter of continued caution, K-9s on long leashes were sent in first.
It took about 20 minutes for troopers to clear the house and confirm the suspects were no longer inside.
It appeared that most, if not all, of the homeowner's belongings that the burglars intended to steal were stacked by the front door, waiting for the minivan to return for loading, but Szymkowiak had arrived on scene before that could happen.
Schmidt said troopers take crimes such as this seriously and do everything they can to bring the culprits to justice.
"For burglary in progress, I don't know the term, I guess, it's a hot call," Schmidt said. "That's somebody's home and it's broad daylight. None of the residents were at home, but it's a sensitive issue. Your home is your castle and somebody is entering that right during broad daylight so that gets our attention. We hope we can catch them. We hope to catch them today."
At 7:15 p.m., the helicopter was still searching the area and troopers and investigators were still on scene.
UPDATE 8:06 p.m.: A suspect law enforcement was looking for is now in custody. They had been looking in the area of Sparks, Shepard and Transit roads. They learned that a Hispanic male went to a couple of residences and asked to use the phone. One of the residents tried to keep the suspect in sight. The man asked for directions to Texaco Town.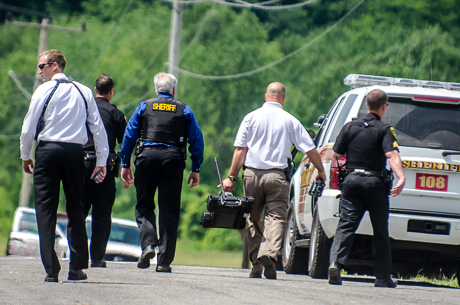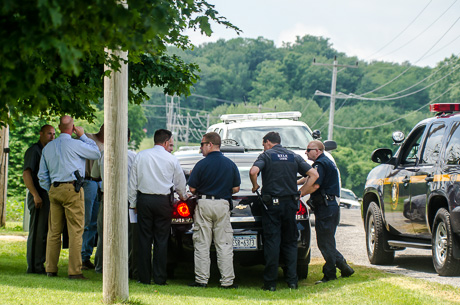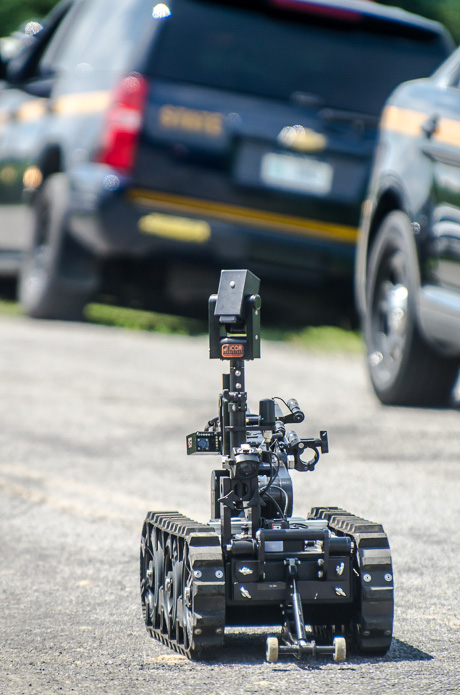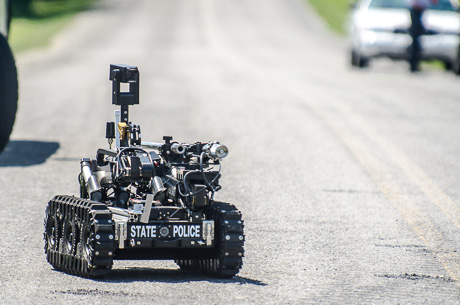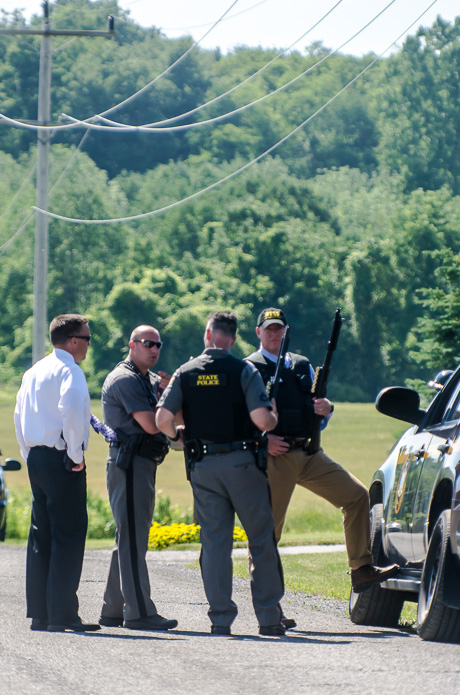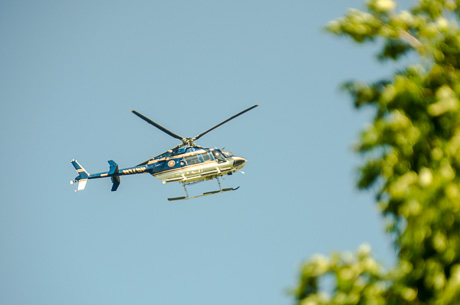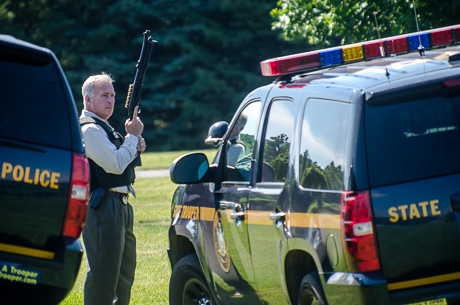 June 26, 2013 - 11:50pm
#1
The Robot has sure clocked in hours on the pavement this week between the hostage situation yesterday and now this.