October 25, 2013 - 12:37pm
Ranzenhofer launches petition drive against benefit cards being used to buy booze, lottery tickets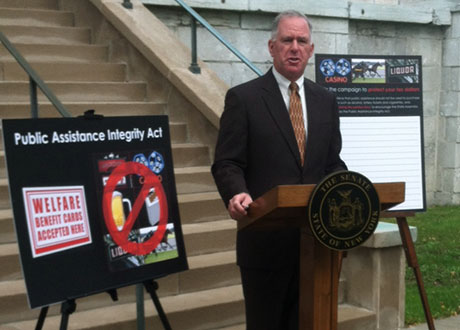 Press release:
State Senator Michael H. Ranzenhofer has started a new campaign to protect taxpayer dollars by launching a petition drive to encourage the State Assembly to pass a bill that would prohibit Electronic Benefit Transfer (EBT) cards from being used by welfare recipients to purchase alcoholic beverages, lottery tickets and other non-essential items.
"While New Yorkers have always been willing to lend a helping hand to those in need, we don't like seeing taxpayer money being wasted," Ranzenhofer said. "There is no law to prevent public assistance from being used to purchase beer, cigarettes or lottery tickets.  It's time to close this loophole in State law."
The Public Assistance Integrity Act (S.966) would prohibit using EBT cards for tobacco products, alcoholic beverages, lottery tickets, and ATM cash withdrawals at liquor stores and casinos. Senator Ranzenhofer is a cosponsor of the legislation. The bill passed the State Senate on June 18th. The State Assembly has not taken action on the bill.
"I was proud to vote for this measure in the Senate, but our job is not yet done. That's why I am launching a new petition drive to encourage the State Assembly to take action on this bill," Ranzenhofer said. "I encourage residents to join my campaign to protect your dollars by signing my petition."
Residents can sign the petition by visiting ranzenhofer.nysenate.gov.
EBT cards work like a debit card for welfare recipients, containing both a Food Stamp and Cash Assistance component. Strict regulations guide what can be purchased for Food Stamps. Cash assistance is intended to pay for items not covered by Food Stamps, such as soap, toothpaste, school supplies and toiletries. Currently, there are no restrictions on the use of Cash Assistance.
Federal aid received by New York may be at risk if the State Assembly does not pass the bill. The federal government has mandated states implement a fraud prevention system by Feb. 2014. If New York State does not act accordingly, the Federal government will penalize the State by cutting federal funding for Cash Assistance by 5 percent or $120 million.
Photo provided by The Batavian's news partner, WBTA.
October 25, 2013 - 3:07pm
#3
Dave. Now I've started to question MY reading comprehension, because nowhere in the post did I read (or imagine) that "this is the most important thing this guy can find to worry about". Or, was something deleted from the story before I got to read it?
As for Mr. Ranzenhofer thinking that this will stop (much) of the fraud using EBT cards, I'm left wondering HOW.
From what I read (in this story), the bill will stop welfare recipients from using ATM machines at casinos and liquor stores. Whoop-ti-do!!
What part of the proposed bill would stop a beer/liquor seeker from stopping at the local bank, Walmart, or other ATM, withdraw money, and head to the local store for 'liquid refresments'?
On the face of it (as far as what was reported in this story), it would seem to be another 'feel-good' measure with little thinking behind it. But, I'm thinking a LOT of our elected politicians have come to expect that, as long as they APPEAR to be doing something good for their constituents, they will be re-elected over and over.
Personally, I think that if our nation's highest post (the Presidency) shouldn't be held for more than 2 (full) terms, that parameter should be carried over to every elected position. But, that's just my opinion.