October 27, 2014 - 11:41pm
Ranzenhofer responds to ham-handed mailer from teachers union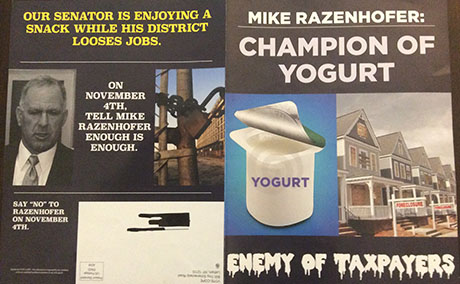 Perhaps you've seen this campaign mailer attacking Sen. Mike Ranzenhofer. 
The Ranzenhofer campaign issued a statement about it today:
Albany's special interests are at it again. This time, a powerful teachers union is attacking a legislative idea suggested by a group of fourth-grade students and their teacher. It's ironic that the union representing teachers is attacking a legislator for getting a law passed to make yogurt the official state snack when students at Byron-Bergen Elementary School first requested it. What is even more bizarre is that the political mailing is filled with a myriad of spelling errors. It misspells loses ("looses"), Ranzenhofer ("Razenhofer"), the Town of Batavia ("Batvia") and the yogurt manufacturer, Alpina ("Aplina"). If the union handed in this political attack to be graded, it would be returned with red ink all over it with a note to keep practicing spelling. Teachers union candidate Elaine Altman should give it a failing grade.
October 28, 2014 - 9:49am
#4
This mailer was probably produced offshore in some place like Indonesia because it's much cheaper. Maybe if GCEDC would spread more corporate welfare around the county there would be local print shops who could compete...