February 9, 2013 - 12:27pm
Robber of Sally's appears to have executed a plan to avoid identification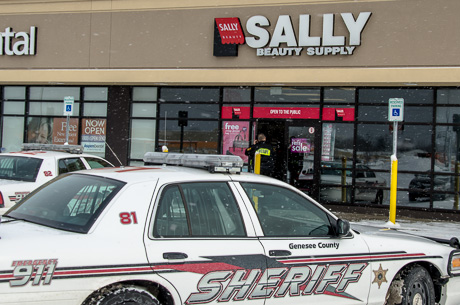 A lone armed robber gave every appearance of knowing what he was doing and of having planned his crime when he robbed Sally Beauty Supply this morning.
Wearing a black ski mask and carrying a knife and duct tape, he entered the Batavia business right after the doors opened when only one female employee was inside.
He ordered her to turn over all the cash in the drawer and then made her go into a back room, where he took all the money from her purse and then bound her hands and feet with duct tape.
The robber told her to wait five minutes before calling police and not to watch him leave. 
"He told her he wasn't going to hurt her," said Sgt. Greg Walker, Genesee County Sheriff's Office.
Footprints in the snow showed he entered and left the store from the west, going around the back of the building and along the western edge of the Target parking lot.
A K-9 tracked his scent to somewhere between the Sally building and the Clarion Hotel, where he may have gotten into a waiting car. 
The path may have taken him out of range of the Target security cameras.
There are no cameras, apparently, in Sally's or any of the neighboring businesses that could help identify the suspect or his vehicle.
The woman was pretty emotional following the robbery, Walker said.
"She was obviously very upset," Walker said. "You can tell she was crying quite a bit. Her make up was running. She's still upset about the whole incident."
The robber got away with an undetermined about of cash, probably just what was necessary to open the store in the morning, plus whatever was in the woman's purse.
He is described as white, about 5'5" tall, about 130 to 140 pounds, and wearing black. He didn't take any store product or any personal items from the woman.
The woman managed to get out of the duct tape using scissors she had available.
Anybody with information that may assist investigators can contact the Sheriff's Office at (585) 343-5000.
UPDATE: Below are photos of a possible suspect vehicle.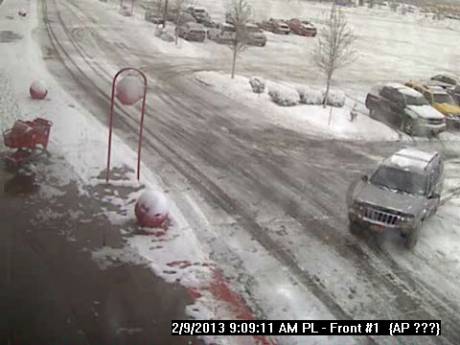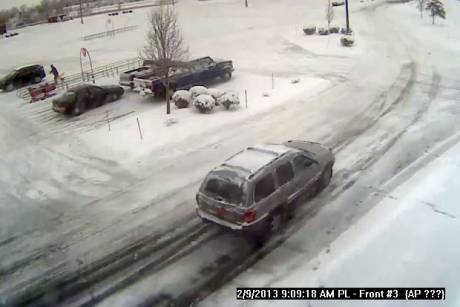 February 9, 2013 - 1:08pm
#4
I wish she had been able to pull a .380 and pump that idiot full of lead. I'm glad she was able to walk away from this and sorry that the robber was also able to.
He walked into the store with a knife and duct tape with a ski mask over his face and has the balls to say he's not going to hurt her. I think that statement was made with the stipulation that she cooperate.
I sure hope that some DNA or fingerprints can be lifted from the sticky side of that duct tape. Why does this stuff happen when I'm not around? I so want to pound the stars out of some creep like him.