September 27, 2012 - 11:44am
Robbins Nest a tangled mess as final approval hangs in the balance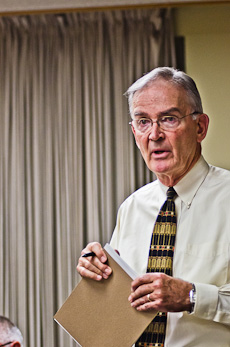 It's been two years since local businessman Pete McQuillen decided to build a senior housing project on property he owns in the Village of Le Roy. The approval process has taken about a year longer than he expected.
And it's still not approved.
The final approval must come from the village board of trustees, but with two members of the five-person board declining to participate in the decision, the trustees are barred by local law from taking a vote.
In response, Village Attorney Laurence W. Boylan (photo: top inset) has drafted a proposed change to the law that would give trustees the authority to move forward.
A public hearing was held Wednesday night on the proposal and village residents expressed both a willingness to support the change, mainly for McQuillen's sake, and opposition.
McQuillen's plan is to build 26 homes on 13.1 acres east of Robbins Road and south of Filmore Street, with prices ranging from $130,000 to $160,000, and sold as part of a planned community to seniors.
Opposition to the project has come primarily from residents of Robbins Road (where McQuillen also lives), led primarily by Town Supervisor Stephen Barbeau (photo: bottom inset) and resident David Boyce. Barbeau and Boyce brought a lawsuit against the village that effectively overturns the board's previous approval of the project.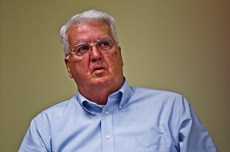 In order for the project to go forward, the village board must approve a zoning change to what's known as a planned unit development (PUD).
Because more than 20 percent of the residents in the immediate area signed a petition opposing the change, under current village law, it takes approval from four of the five trustees (known as a "super majority") to make the change.
Two trustees -- Bob Taylor and Mike Tucci -- have said they have a conflict of interest and recused themselves from making a decision, and voting, on the project.
With two members not participating, the remaining three trustees can't even vote on the issue, let alone achieve the super majority necessary for approval.
The proposed change in the zoning code would allow for a simple majority vote (only three yes votes required).
However, the change in the law would effect all requests for zoning changes in the future, and some at Wedensday's meeting -- even those who support McQuillen -- said that could open a potential Pandora's Box of unintended consequences.
Residents would lose some power to block unwanted zoning changes.
"We're supposed to be governed by law and not by men," Hank Barbeau said. "What you're trying to do here, it seems to me, is adjust the law to make it fit the man. It's that simple to me. Am I that ignorant that I can't see it? That's a very shrewd way, some might say, to get your way."
McQuillen noted that his proposal has been reviewed and removed by various agencies and boards nearly a dozen times and has received very little opposition from officials. If at any time he had been told no, the project would have ended, but officials have never found a reason to object to the project.
Now the project is in limbo because of the village board's inability to act and he's losing money. He needs to do some things to keep the project moving forward, but is hesitant to spend more money given the present circumstance.
"To come back and be told the board doesn't have a quorum would just be flushing money," McQuillen said.
Several residents implored Taylor (photo: middle inset) and Tucci to drop their recusals and participate in a vote.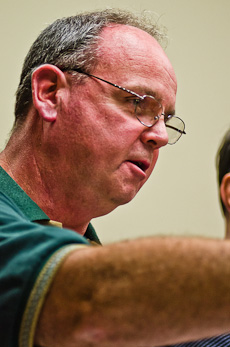 Attorney Boylan has said that while a board member is free to recuse himself on a vote he feels he has a conflict with, the actual state law requiring recusal is very narrow and specific and he doesn't see it applying to Taylor and Tucci.
After repeated requests from residents for reconsideration by Taylor and Tucci, Tucci spoke up and said he feels he has a clear conflict of interest.
David Boyce is his boss and controls his compensation. He also has an employment contract with Tompkins Financial Corp. that requires him not to participate in any decision on the board in which he has a financial interest. He offered his code and conduct and employment contract up for any other attorney to review to see if it says something other than what he believes it says.
"I would love to hear another opinion on the matter," Tucci said. "It's pretty simple to me. It's inappropriate for me to vote on this knowing these facts."
The first time Robbins Nest came to the village board for approval, Taylor did vote on it. He voted no, and though he feels he cast his vote in good conscience, some residents accused him of voting no only because Steve Barbeau his is nephew.
That pressure convinced him that if his vote couldn't be viewed as impartial, he should not participate in the decision.
"People who know me know I wouldn't vote for him just because he's a relative," Taylor said. "You ask my nephew. I haven't always voted for him all these times. He's not always right."
As the discussion continued, Taylor expressed some willingness to reconsider his recusal, but Boylan said that may not be possible. He said he will need to research whether it's legal for an elected official who has recused himself from an issue to reenter the discussion.
Barbeau expressed frustration with people he believes pressured Taylor over his previous vote and now complain about him recusing himself.
"You know who you are," Barbeau said.
The proposed change in the law will now go to the county planning board for review. It will then come back to the village board for a possible vote. No date has been set yet for the vote.
September 28, 2012 - 8:16am
#1
Typical small town politics.
Someone wants to make change for the good, one which would create jobs, and benefit the public, and the local governing body has to make quick changes in their zoning laws to prevent the change.
Talk about stuck in the mud mentality.
September 28, 2012 - 8:50am
#2
The attempt to change the law isn't aimed at preventing the change. It's aimed at making it easier for the development to get approved, or at least voted on instead of killed without a vote.
And these kind of land use disputes aren't limited to just small towns.