September 20, 2013 - 8:55am
Rochester resident accused of selling crack cocaine in Batavia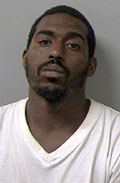 Devon Bell
A 26-year-old Rochester resident is being held on $50,000 bail after being accused of dealing crack cocaine in Batavia.
Davon Tamer Michael Bell, of Gillette Street, Rochester, is charged with two counts of criminal sale of a controlled substance, 3rd, and two counts of criminal possession of a controlled substance, 3rd.
Bell allegedly sold crack cocaine to undercover agents working with the Local Drug Enforcement Task Force.
The investigation into Bell's alleged activities began nine months ago. He was taken into custody Sept. 10 by Rochester PD.
Bell was indicted in a sealed indictment by the Genesee County Grand Jury.