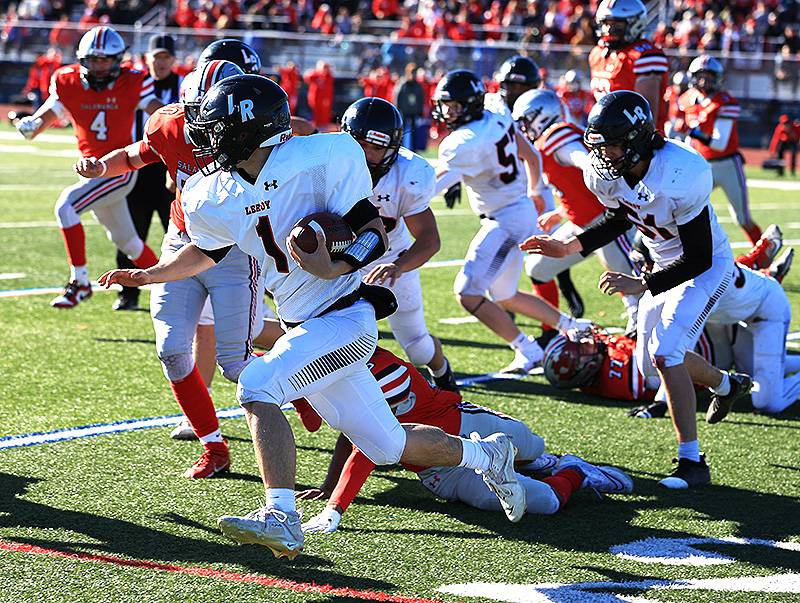 A touchdown 16-yard pass from Payton Bradley to Isaac Maddox with six seconds left in the Far West Regional broke a 13-13 tie, giving Salamanca the win 21-13 and delivering Le Roy its first and final defeat of 2023.
Scoring up to that point had been tit-for-tat on Saturday. Le Roy scored in the first quarter on a one-yard run by Drew Strollo, and Jack Currin converted the point-after. In the second, Arlen Newark scored on a 45-yard pass for Salamanca. Newark also kicked the extra point.
Le Roy answered two minutes later on a 3-yard run by Strollo, but the PAT kick was blocked.
Midway through the third quarter, Salamanca knotted things up on a 33-yard Isaac Maddox run but also had its kick blocked.
For Le Roy, Strollo gained 68 yards, scored two touchdowns, gained 17 yards on three receptions, and on defense had five tackles.
Tonny Piazza gained 77 yards on 19 carries.  Tommy Condidoria was 4-7 passing for 12 yards.  Holden Sullivan and D.J. O'Geen had six tackles each on defense.
The Oatkan Knights finish 2023 with an 11-1 record. That 11th win was the program's record-setting 16th Section V title.