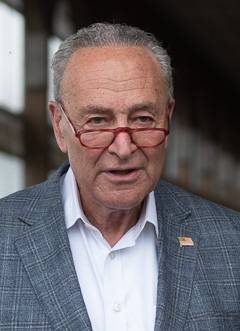 Press release:
Following his personal meeting in China with President Xi Jinping last month, U.S. Senate Majority Leader Charles E. Schumer today detailed how the new deal President Biden has struck with China to crack down on the scourge of fentanyl could be a major step forward to curb the opioid crisis in New York, but said now more than ever it is imperative to hold China accountable and ensure there is compliance with their commitments. 

"The agreement President Biden has announced with China is a long overdue step which has the potential to help cut off the supply of fentanyl at its source and stop this drug before it ever enters our country and hits the streets of New York, but now it is more vital than ever to hold China accountable for the commitments they have made," said Senator Schumer. "Fentanyl has wreaked havoc in New York and across America, with this crisis stemming in large part in China, where large chemical companies openly and illicitly sell precursor chemicals to buyers in places like Mexico, where it is manufactured and illegally shipped to our most vulnerable communities here in NY. During my visit to China last month, we were pointed and direct with President Xi, I told him the devastating impact I have seen the opioid crisis have on New York families. I am pleased to see China take what could be a major step forward to cut off the flow of fentanyl, and I am going to be watching like a hawk for progress."  

Specifically, Schumer explained China has said it will take new action to enforce its own regulations against the companies that make precursor drugs in a major step to potentially cut off the flow of this deadly drug. A similar notice to the industry in 2019 led to a drastic reduction in seizures of fentanyl shipments to the United States from China. Schumer said the U.S. also has information that that PRC police have taken law enforcement action against Chinese synthetic drug and chemical precursor suppliers.  As a result, certain China-based pharmaceutical companies ceased operations and have had some international payment accounts blocked.  This probably represents the first law enforcement action against synthetic drug-related chemical sellers by Chinese authorities since 2017. 

In addition, China and the United States will be launching a counter-narcotics working group to bolster law enforcement and information sharing to cut off the flow or precursor drugs and illicit fentanyl. The U.S. and China have both said they will also start working on an ongoing basis at the senior level to directly address this crisis and start working closely together to carry this initiative forward. In conjunction, Schumer said these long overdue steps have real potential to reduce the flow of these drugs into the United States and places like New York, and ultimately save lives.