July 8, 2013 - 6:11pm
Show at Richmond pays tribute to former Batavia artist Esther von Kramer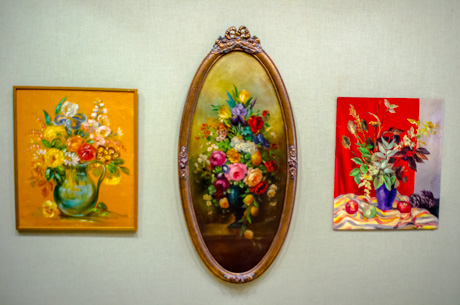 The colorful and vibrant artwork of Esther von Kramer is on display this month at the Richmond Memorial Library.
The artist was born in Buffalo in 1893, but spent much of her adult life in Batavia and was an original member of the Batavia Society of Artists.
She died in 1981 at the age of 88 in East Aurora.
Her grandson, Eric von Kramer, helped organize the show, pulling together pieces of her work from family and friends.
Esther von Kramer's work in the show is comprised primarily of still lifes and a few landscapes, with work on canvas as well as household items such as serving trays, chairs and milk buckets.
Von Kramer had to move east to work during the war, but returned when it was over and opened a studio and shop in her home. She was an art instructor for adult education programs in Corfu and Le Roy. She also taught painting at the YMCA.
"Those years were some of the happiest of her life, filled with all the dear people who came as students and customers, and remained as lifelong friends,"  according to a family biography.  "She loved everyone!"
There will be a reception at the library tomorrow (Tuesday) from 7 to 9 p.m.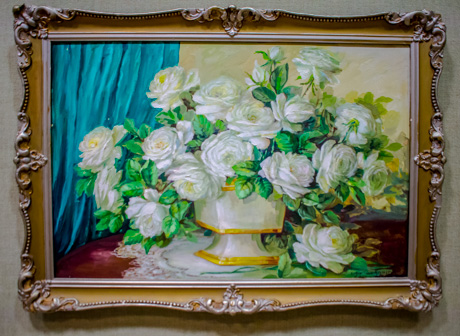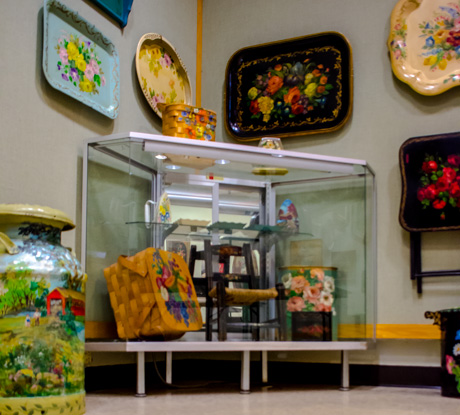 A reception will be help tomorrow night at the Richmond Library from 7-9 Stop in and help us enjoy the evening. We would love to meet anyone who knew Esther, or anyone who appreciated her work.