April 21, 2013 - 12:29am
Sink hole opens at property on Oak Street
posted by
Howard B. Owens
in
batavia
.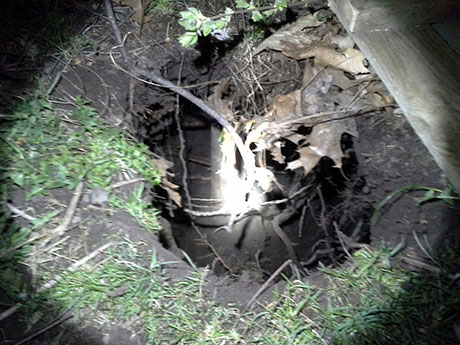 James Pontillo sent this picture of a sink hole that opened up at his property at 15 Oak St., Batavia. He said it opened at spot where he was standing and he fell in. The hole is now five-feet deep.
It may be an old city sewer line.
City DPW put up barricades for the night.
April 21, 2013 - 11:48pm
#1
This was my house #15 a few years ago the sewer in question is what was once called the big ditch it was an open creek which you can still see the beginning of at its origin Walden Estates this "ditch" starts there and ends behind CVS pharmacy at the tonawanda creek. Right in front of this house on Oak there is evidence on both sides of the road of a bridge there is a curb abutment running along both sidewalks on each side of the road. My grand parents and later my home was at 30 oak my dad said when he was a boy and oak was two lanes he remembers sitting on those bridge abutments. History 101 for today. When I was a kid we use to play in the parking lot of the apartments on Mix and there was a manhole also in that parking lot for this sewer.