September 12, 2012 - 6:24pm
Sponsored Post: A message from John Gerace to the voters of the Town of Batavia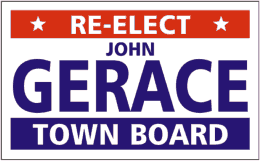 The time has come for the voters of the Town of Batavia to finally put an end to the madness and focus on what counts!
I think we've all had enough of the irrational, mentally imbalanced rantings, and judgmental, unfounded comments …
Did you know that JOHN GERACE has been lobbying in Albany at least 3 times a year for 20 + years…For YOU & I, the taxpayers of this town??? Not as part of his job … on his own personal time, at his own cost. Fighting to keep down property taxes, recording fees, mortgage taxes, school taxes, and any other ridiculous State fees and/or taxes that get onto the Assembly floor for a vote.
Did you know that JOHN GERACE has also lobbied in Washington D.C. for all of New York State taxpayers????
Did you know that JOHN GERACE has served with dedication to the Town of Batavia for over 17 years???
·      10+ years as a Councilman*
·      5 years on the Planning Board
·      2 years on the Zoning Board of Appeals
***VOTING FOR AND FINDING WAYS TO KEEP A 0% TAX RATE IS AN ACCOMPLISHMENT FOR THE ENTIRE TOWN BOARD TO BE PROUD OF!!!!***
John Gerace stands for lifelong commitment to the Town of Batavia and all of Genesee County through his actions with YEARLY support of…
·      Genesee Cancer Assistance…Every fundraiser
·      Habitat For Humanity "Home in a Box" build with physical and financial participation
·      Crossroads House
·      Constant fund raising for the Republican Party at the Town, County, State, and National level
·      Volunteer work for local clothing drives and food pantries
·      The United Way Day of Caring
·      Countless Rotary Club events over the years
·      School fundraisers, Girl Scouts, Boy Scouts
·      Many, many Church fundraisers…the list is endless…
JOHN GERACE'S immense contributions to the Town of Batavia happen greatly on his own time…
Not as an occasional byproduct of his day job, which he gets paid to do, but from the heart in an effort to improve our lives through making our town a better place to live, and to provide our children a financially sound community in the future so that they can one day raise their own children here.
Please get out and
VOTE FOR THE PROVEN REPUBLICAN, JOHN GERACE
The Republican primary is September 13 from Noon to 9 p.m.
~Paid for by The Friends of John Gerace.
September 12, 2012 - 7:40pm
#2
"I think we've all had enough of the irrational, mentally in-balanced ranting's, and judgmental unfounded comments …"
LOL Mr. Gerace. You're casting a pretty wide net...can you be more specific?