April 17, 2013 - 7:44pm
The story of a stolen thermometer and the police officer who made a gift of it
posted by
Howard B. Owens
in
Le Roy
.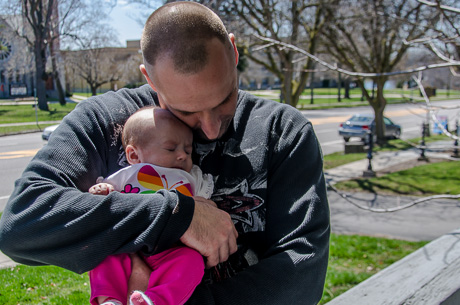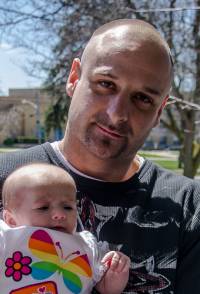 Michael J. Penvose set out to Dollar General in Le Roy on Saturday with a simple mission: buy a thermometer that might give him an accurate reading of his infant daughter's temperature.
She had received a vaccination shot and the doctor told Penvose her temperature might creep up. It might even hit 100, but if it hit 100.1 he should call for help or bring her into the hospital.
"We were taking her temp with a thermometer we got from the hospital," Penvose said. "It was saying 99.6, 99.8. I've got it all written down in the house. Then I put it in my mouth and checked my temperature and it said 97.9 and my girlfriend's was different. I panicked. I'd been up all night with her and we're short on money. I went down to Dollar General and I was a few dollars short. I kind of panicked."
What Penvose, 33, did next landed him in The Batavian's "Law and Order" column for Monday. He was charged with petit larceny. It also led to a phone call to The Batavian from Penvose's landlord with "the rest of the story."
Yes, Penvose stole a thermometer, but he also received a bit of charity from an unexpected source: A Le Roy police officer.
Officer Emily Clark purchased that thermometer and gave it to Penvose as he was released from custody and told him to go home and take care of his daughter.
"I told him when I gave it to him that it wasn't that I condoned the fact that he stole it, certainly," Clark said. "And it wasn't condoning that he wasn't very cooperative with Officer Robb, it's just that I can appreciate having a sick child at home and just the situation he's in. How do you not have sympathy for somebody who can't afford something for a child that's a necessity?"
Penvose is originally from Angola and he and his fiance have lived in Le Roy for two months. He said he's had his "fair share" of brushes with the law over the years, but he feels like in the past six months things have been turning around for him, even as he struggles to find a job locally.
There's a sign on the couple's door instructing visitors to remove their shoes before entering and their infant daughter was cute as a bug and dressed a snug jumpsuit when a reporter dropped by unexpectedly.
The big issue with finding a job, said Penvose (he said he can "do anything" -- construction, including roofing and siding, and even build cars) is that he doesn't have a car. Every contractor he's applied with for a job -- 33 in all, he said -- has demanded he have a car. 
That issue may be settled by now. The couple was planning on trying to buy a car today using a a tax refund check his finance received.
The thermometer Penvose tried to purchase was more than $7 and Penvose only had $4.50 in cash on him at the time.
"I panicked," he said. "She was burning up and I just felt something was wrong and I didn't want to take a chance."
After he left the store, Officer Daryl Robb found Penvose walking east of the Yellow Goose.
Penvose admits he wasn't entirely honest with Robb when they first spoke.
"I gave them a little line of a story because I was panicking," he said. "I just wanted to get home. I'd been taking her temperature every three hours."
Robb took Penvose back to the station and at that point Penvose opened up and told the full story.
"I just thought I should tell him exactly what the situation was," Penvose said. "Everybody in the room, it looked like, they all had tears in their eyes."
Clark left, went to the store, and paid for the thermometer, and Robb finished processing Penvose on the petit larceny charge.
"I guess if I was that situation I would want somebody to do that for me," Clark said. "We're not just cops. We're people, too. It's not part of the job, but I guess I like being able to do that as part of the job."
Making a bit of charity part of her job is something Clark has done a few times before said Chief Chris Hayward. For example, when homeless people have passed through the village, she's bought them food.
"That's the type of officer you want," Hayward said.
Clark was surprised when a reporter showed up at headquarters today asking about the incident. It's not something she expected anybody to find out about. When we first asked Hayward about it, he didn't even know Clark had helped Penvose.
Penvose is worried what the misdemeanor charge might mean for him, but he's still in disbelief that a police officer, or anybody, would help him in that situation.
"Not a lot of people out there do stuff for me and I do a lot for a lot of people," Penvose said. "I'm always a helping hand. My past has not been very good, but I'm always helping somebody. It doesn't matter what it is. If somebody needs their yard raked or (has a) flat tire, it don't matter what it is, a rainstorm, I'll pull over. When she did that for me, it was shocking. I was like wow, there are people out there who ... well, I guess it was the situation. It wasn't for me anyways. It was for my daughter."
April 17, 2013 - 9:21pm
#2
What a wonderful thing to do officer Clark. I know how hard things can be and a struggle at times. I do hope the baby is ok!!!! My prayers go out to the family, and I hope Michael finds a job soon. What a heartwarming story.