March 19, 2013 - 10:48am
Students from eight area schools make it to Mock Trials quarter finals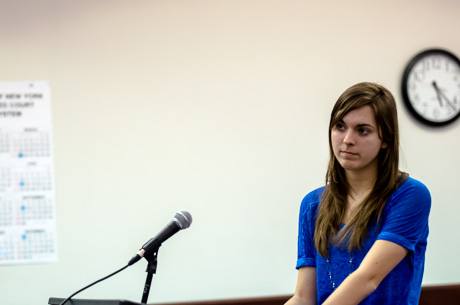 High school students from throughout the area were in the Genesee County Courthouse on Monday evening for the annual Mock Trial competition.
The results of the quarter-final round are not yet available because Dansville and Hornell were on travel restrictions because of weather. Those two schools are expected to meet at another location today.
Participating last night were Attica, Byron-Bergen, Batavia, Alexander, Pembroke and Le Roy.
The photos here are from Pembroke vs. Le Roy's first match (each team runs through the mock case as both the plaintiff and defense, scoring points on each side).
For Pembroke on Monday, the team was Erik Schoenecker, Brandon Kohorst and Ben Reiner as plaintiff attorneys. Their witnesses were Bryan Cox, Sabrina Sanner and Karen Glomb. In the second round, the defense was Christian Burns, Eva Reda-Kendrick and Jutsin Sformo. Their witnesses were Kayla Underwood, Jenna Lawson and Alison Reiner.
For Le Roy, on the defense side were Chris Trend, Danielle Branton and Sydney Chester as attorneys, and Sam Platt, Bailey Kennedy and Meghan Slocum as witnesses. The plaintiff attorneys were Emily Henderson, Dan Matthews and Verneeda Peete with witnesses Chris Trand, Eliza Harvey and Danielle Branton.
The case this year involves a student who enrolled in a technical community college and claims the school misrepresented the qualifications of the professors, the quality of the instruction, the availability of internships, the ability to find qualified employment and the nature of employment graduates actually obtained. The school is also affiliated with a student loan company that is apparently not fully disclosed and other financing options are not offered to students (though others are available). 
The semi-final rounds will be in Geneseo on Wednesday and the finals in Warsaw next Monday.
The regional finals, as happens every four years, will be in Batavia this year.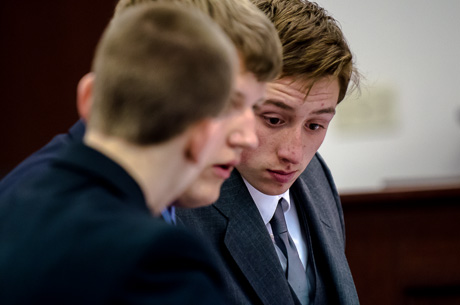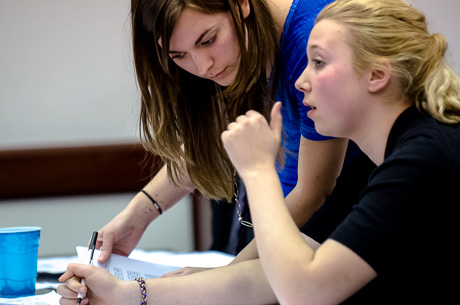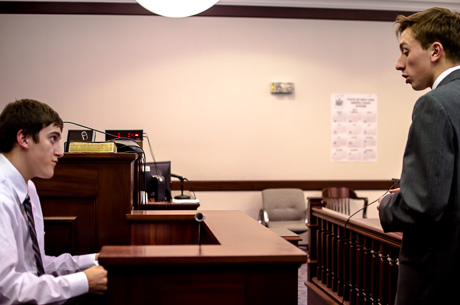 Parents, to purchase prints of these photos to ensure you have them for years to come, click here.