August 28, 2013 - 11:02am
Sunday night fight on Harvester Avenue left local man critically injured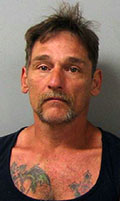 A 52-year-old man is fighting for his life after being punched in the head Sunday night during an apparent fight outside The Harvester, a bar on Harvester Avenue.
Scott Baker suffered a fractured skull from a single punch, according to a police report filed at City Court.
He's listed in critical condition at Erie County Medical Center.
Taken into custody and held without bail on a second-degree assault charge is 47-year-old Shane M. Bell (in photo), of 161 Jackson St., Batavia.
Police were called to the scene at 8:50 p.m. 
The Harvester was hosting its annual pig roast.
Bell made a sworn statement to police saying, "Scott followed me out to the car. Scott came up to me and chest bumped me. Scott grabbed my shoulder and I turned and punched him in the head."
Police officers also reported hearing Bell make several statements about hitting Baker, such as:
"I bitch slapped him."
"I hit him so f--- softly it's not even funny."
"He went down quickly."
"I hit him half medium."
"I'm registered, man. I kick boxed for like seven years."
"I hit him right in the f--- eye."
"I used to f-- people up."
"He was with me for more than three hours."
"I dragged him from the curb to the grass."
A witness said she heard Bell say, "He pulled my hair so I punched him."
The same witness tried to give aide to Baker until EMTs arrived and told police there was a lot of blood.
Mercy medics told police on scene that Baker was seriously injured and Det. Pat Corona was called to the scene.
"We were told right away it was very serious," Corona said. "We proceeded (with the investigation at the scene) as if it was as serious as it could be, as if it were a homicide."
Corona said investigators are interested in talking with additional witnesses. He's asking that people with any information to call Batavia PD at (585) 345-6350.
August 28, 2013 - 11:19am
#1
I along with so many others who enjoyed a day with their family and friends are so sickened and shocked by what happened. This was done by a bully who has this record of being such. There is always one person in the crowd to ruin it for everyone I hope Shane Bell receives the sentence he deserves he is a barbaric bully who could never take on a real man. We all hope this criminal is given the harshest sentence afforded to him by law. This man dragged the victim from the road and beat him while unconscious and does not belong in our society, a real sick individual.
Myself along with the hundreds of people who enjoyed a great day wish for the best for the victim and his family. This by no way is what this day is about its about a day of horseshoes, food, fun and music.