November 27, 2013 - 2:32pm
Suspect says 'out of control' addiction to crack cocaine led to robberies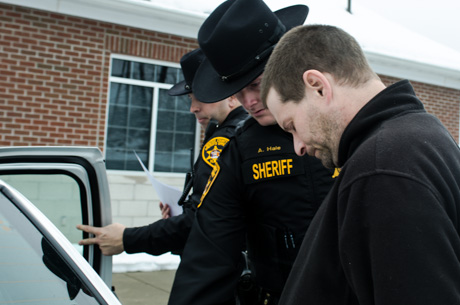 | | |
| --- | --- |
| | |
| Mark Maltese | Robert Grant |
In a statement admitting to all three robberies in Batavia and Oakfield over the past week, suspect Mark J. Maltese said the $550 he said he got in the three heists all went to buy crack cocaine, which he said he smoked as soon as he bought it.
Maltese signed a sworn statement in which he he acknowledges his right to remain silent and consult an attorney before talking with police.
"I have been struggling with a major addiction to crack cocaine for about the past six or eight months," Maltese said. "This addiction has consumed me and the majority of my money goes to buy crack to feed by addiction. My crack use got way out of control and I didn't know how to stop or slow down with smoking it. I became desperate for money so that I could get more crack cocaine, so I turned to robbing places to get the money I needed for crack. Every bit of the proceeds from the three robberies went to buy crack for me to smoke. I was out of control with my addiction and didn't know where to turn."
Maltese was arrested early this morning after Batavia police, with back-up from Sheriff's deputies and state troopers, responded to a report of a break-in at the Rent-a-Center at 4152 W. Main St., Batavia.
A worker at a nearby business heard the glass break and called 9-1-1. He took a picture of the suspect's vehicle and was able to provide police with a direction of travel.
The suspect vehicle was located, according to police, at a location on Colonial Boulevard.
A person at that address told police that Maltese and Robert C. Grant carried a large-screen TV into the basement.
In a press conferance at Batavia PD headquarters this morning, Chief Deputy Jerome Brewster, Sheriff's Office, said a birthday party was being held at the residence on Colonial Boulevard.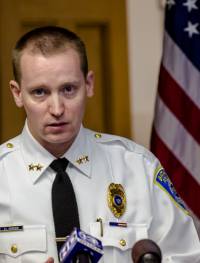 Chief Shawn Heubusch
during press conference
During the subsequent investigation, law enforcement reportedly uncovered evidence that tied Maltese to three recent robberies early Thursday morning at the Best Western on Park Road, early Friday morning at the 7-Eleven in Oakfield, and early Sunday morning at the Days Inn on Noonan Drive, Batavia.
In the first two robberies the suspect displayed what appeared to be a semi-automatic handgun. At the robbery Sunday, the suspect threatened the Days Inn clerk with a shotgun.
On Friday, while a deputy was pulled over to the side of the road in the area of the bridge over the Tonawanda Creek in Bushville, a person on a bicycle approached and said, "Look what I found," according to Brewster.
It was a silver BB gun and upon comparison with the gun seen in the video of the 7-Eleven heist, investigators determined it was a likely match.
In his statement to Investigator Ron Welker, Maltese admits to using a silver BB gun in the first two robberies. He said he disposed of the gun after the Oakfield robbery in the area of the bridge on Route 5 near the Willow Bend Inn.
Maltese, 43, of 29 Dellinger Ave., Batavia, was charged in City of Batavia, in the Town of Oakfield and the Town of Batavia with robbery in the second degree.
Both Maltese and Grant, 52, of 2444 Angling Road, Pembroke, were charged with burglary, 2nd, in connection with the alleged break-in at Rent-a-Center, where they allegedly tried to make off with a two large screen TVs and a fake fireplace.
Justice Tom Williams set bail in the Town of Batavia case for Maltese at $25,000 cash or $50,000 bond. 
According to Maltese's statement, he drove his girlfriend's green Toyota Camry to the Best Western on Park Road and entered wearing jeans, a black hoodie with "Army" on it, black gloves, a black knit cap, black and red Nike sneakers and a red bandana covering his face. 
He said he walked up to the clerk and pulled out his BB gun and said, "Gimme all your money."
The clerk said, "are you kidding me?" and repeated the question several times. Maltese said he told her he was serious. "This is a robbery."
In her statement to police, the clerk said the suspect told her, "I will shoot you if you don't give me all the money."
The clerk retrieved the money from the cash drawer, he said, and gave it to him and he fled the hotel returning to his residence on Dellinger.
He said he "went up into the attic to figure out what I was going to do next. I then took the money that I got from the robbery which was around $300 and went and spent the entire amount on crack cocaine, and smoked all of it that same night."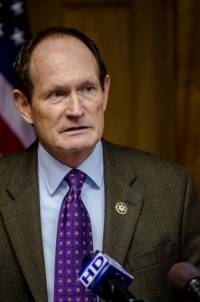 Sheriff Gary Maha
during press conference
For the 7-Eleven robbery, Maltese said he wore jeans, a brown hoodie "with some design on it," black gloves, a knit hat, black and red Nike sneakers and a purple bandana covering his face.
He demanded the money in the drawer, got it and left.
He said he spent the entire $50 take on crack cocaine and smoked it all that night.
After the robbery he disposed of the BB gun.
For the Days Inn job, Maltese said he wore jeans, a black hoodie with "New York" on it, black gloves, a knit Sabres hat, black and red Nike sneakers and a black bandana covering his face.
He said he pointed a loaded shotgun at the clerk.
In a statement, the Days Inn clerk said he was frightened during the robbery.
"He said if I pushed any buttons or called anybody, he would shoot me," the clerk said. "I gave him the two drawers. A cash drawer and the change drawer. He pulled the money out the drawers and took the coin holder, too. He then left. He told me as he was backing out the door, that if I called anybody he would come back and shoot me. What scared me was that I actually looked at him."
Maltese said he got away with about $200 and immediately purchased crack cocaine and smoked it all that night.
In his statement, he said Investigator Welker showed him the Nike sneakers, the silver BB gun and a metal coin tray, all of which Maltese said he identified as associated with his robberies.
He said he destroyed the rest of the clothes he wore on those three nights.
Sheriff Gary Maha said the arrest of Maltese demonstrates how closely local law enforcement agencies work together to solve crimes and credited both the investigation that had taken place prior to this morning's Rent-a-Center break-in and the willingness of a witness to contact police and provide detailed information.
Brewster also praised this morning's witness.
"That witness was crucial in identify that vehicle and leading to the arrest of these suspects," Brewster said.
The use of fire arms in robberies create all kinds of dangers for victims, police officers and suspects, Brewster said. A police officer who sees a suspect with a BB gun is likely to believe it's a loaded handgun, he noted.
"We think the danger factor was very high in this case," Brewster said.
The admission by Maltese that his alleged robbery spree was driven by a need to feed a crack cocaine habit and that he had moved up, in a manner of speaking, from using a BB gun to a shotgun, tends to make his timely capture all that more critical, Chief Shawn Heubusch said.
"Any time you have somebody who is addicted to narcotics or doing these types of crimes to feed a habit, it tends to escalate," Heubusch said. "There is a pattern of starting with smaller crimes and getting more serious. It's very concerning. Of course, I can't predict what he would have done next."
Investigators are still trying to determine if Grant or maybe even another person was involved in the robberies, Maha said.
It's possible, according to investigators, the robbery suspect did not drive himself to and from the commission of the crimes.
The investigation is ongoing and additional charges are possible.
Top Photo: Maltese following arraignment in Town of Batavia Court.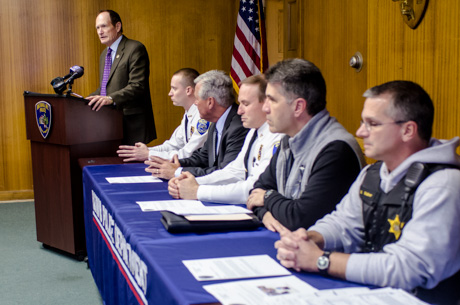 Below are photos submitted by Joanne Shriver, owner of Expert Mitigation Services, the company called in to board up the broken window at Rent-a-Center this morning.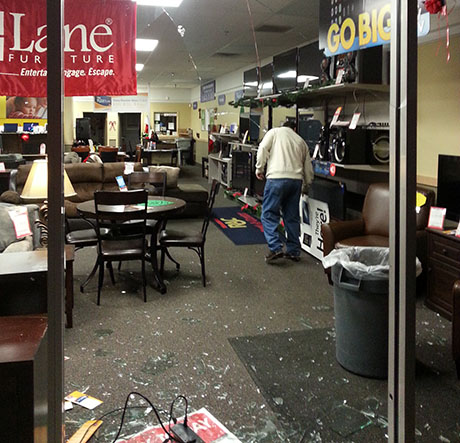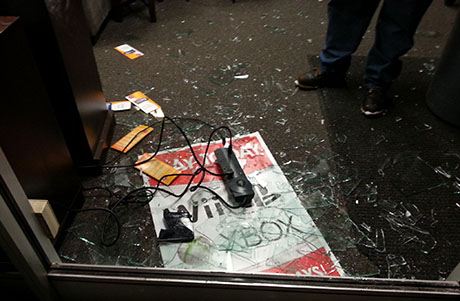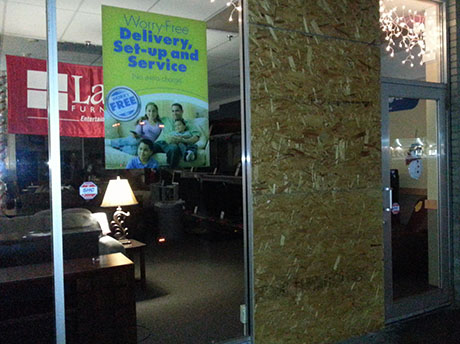 December 2, 2013 - 6:52am
#31
Caffiene is NOT Crack, nor is alcohol in any way similar to meth.
Generalizations are nice and convenient but they don't belong in this conversation. Asprin is a drug yet you arent gonna see it made illegal anytime soon but you lump it in with these others.
As far as addictions go, there is also no way to determine a sex addict is any more or less an addict than an alcoholic, some for video game addicts, or texting addicts or gambling addicts and so on. It doesnt necessarily have to be a substance addiction to be an addiction.
Do you even know what addiction is, lets let the experts tell us what the general definition is...
What Is Addiction?
Addiction is a condition that results when a person ingests a substance (alcohol, cocaine, nicotine) or engages in an activity (gambling) that can be pleasurable but the continued use of which becomes compulsive and interferes with ordinary life responsibilities, such as work or relationships, or health. Users may not be aware that their behavior is out of control and causing problems for themselves and others.
The word addiction is used in several different ways. One definition describes physical addiction. This is a biological state in which the body adapts to the presence of a drug so that drug no longer has the same effect; this is known as tolerance. Because of tolerance, there is a biological reaction when the drug is withdrawn. Another form of physical addiction is the phenomenon of overreaction by the brain to drugs (or to cues associated with the drugs). An alcoholic walking into a bar, for instance, will feel an extra pull to have a drink because of these cues.
However, most addictive behavior is not related to either physical tolerance or exposure to cues. People compulsively use drugs, gamble, or shop nearly always in reaction to being emotionally stressed, whether or not they have a physical addiction. Since these psychologically based addictions are not based on drug or brain effects, they can account for why people frequently switch addictive actions from one drug to a completely different kind of drug, or even to a non-drug behavior. The focus of the addiction isn't what matters; it's the need to take action under certain kinds of stress. To treat this kind of addiction requires an understanding of how it works psychologically.
No matter which kind of addiction is being referred to, it is important to recognize that its cause is not simply a search for pleasure, and addiction has nothing to do with one's morality or strength of character. Experts debate whether addiction is a "disease" or a true mental illness, whether drug dependence and addiction mean the same thing, and many other aspects of addiction. Such debates are not likely to be resolved soon. But the lack of resolution does not preclude effective treatment.
http://www.psychologytoday.com/basics/addiction
You are talking about drug dependancy which does treat all drugs even legal ones the same because it's all about the human body's development of tolerance and the biological reaction when that substance is withdrawn. Called DT's or detoxification.
But the premise that a drug is a drug is a drug is a dangerous concept to be spouting outside of the drug treatment community as it is NOT what reality is.
So my argument is neither ridiculous or ludicrous as I am talking about the substances themselves it takes very very little meth or crack or morphine to become intoxicated than it does alcohol. Even if one is so bad that they need to drink mouthwash to get intoxicated, alcohol is very limiting as if one is drinking beer your body can't possibly hold enough to get so blasted without you running out of money, running out of physical capacity or running out of time. A first time user of heroin can overdose on 200-500mg and a hardcore user od's on 1800mg.
Do you know how small 1800mg is?
As a comparison A shot of alcohol, a glass of wine and a can of beer contain about 14 grams of alcohol , thats 14000mg of alcohol so indeed there is a big difference in drugs.