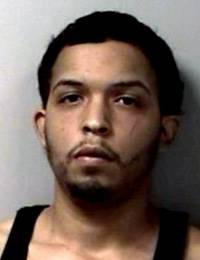 A 22-year-old Rochester man is accused of possessing an illegal "ghost gun" following an incident at West Main Street and Ellicott Avenue that precipitated a chase and foot pursuit by Batavia PD.
Taken into custody was Ezequiel Serrano.
Serrano is charged with criminal possession of a weapon in the fourth degree (ghost gun), criminal Possession of a weapon in the second degree, criminal use of a firearm in the second degree, menacing in the second degree, unlawfully fleeing a police officer, along with multiple vehicle and traffic violations.
The incident at 12:14 p.m. on Thursday caused BOCES and Batavia High School to go into a "lockout" safety precaution.
It began with a report that a person outside Dunkin' Donuts had displayed a handgun in a way that was threatening to another person.  Upon arriving, officers learned the suspect and the victim were known to each other and that the suspect was still in the area.
When officers attempted to stop the suspect vehicle, the driver allegedly ignored officers' commands and fled. 
There was a vehicle pursuit on Batavia side streets until the driver abandoned the vehicle on a dead-end street and fled on foot.
With the assistance of K-9 Batu, the suspect was taken into custody several blocks away without further incident by members of the Batavia PD Detective Bureau. 
Assisting Batavia PD were Genesee County emergency dispatchers, the Sheriff's Office, and State Police.
The handgun was recovered. 
Serrano was arraigned in City Court, and held on $50,000 cash bail, $100,000 bond or $500,000 partially secured bond pending his next court appearance.
"The quick and efficient work of all officers involved ensured the safety of our community and led to the successful apprehension of a fleeing felon," said Chief Shawn Heubusch.